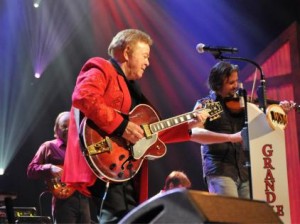 Flashing lights, lasers, pyrotechnics, loud music and cowboy boots; this is the new face of country music.
This new face of modern country music emcompasses every age demographic and continues to gain popularity, not only for older adults, aged 44 and up, but the young "tween" and college crowd as well.
Country music has always been popular in North America, with many older listeners or listeners in the southern states.
One example is of a popular country artist is Johnny Cash. Cash won 17 Grammy awards, wrote over
1,000 songs and recorded dozens of albums. However, his popularity was with an older class of listeners with an average age of 44 and up.
This older demographic related more to Cash's music since it wrestled with the issues that were relevant to them, such as the song, "Old Apache Squaw." This song was released in 1959 when the recollection of Indian warfare was still fresh in the population's mind.
One of the first country bands to break the age barrier was Rascal Flatts. The band started in the year 2000 and since then has managed to procure a loyal following of young people in the coveted age range between 18 and 24.
Their total album sales are at 19 million, with one Grammy win and five nominations. Not only do teens and college age kids listen to them but a poll conducted by Weekly Reader Researcher surveyed 2,000 kids, between the ages of 10 and 12, and found Rascal Flatts to be the sixth most popular band among them.
Another country artist who rocketed to popularity in recent years is Taylor Swift. This country star is extremely successful in seamlessly blending country music with pop. She has landed album sales over 13 million, as well as winning four Grammy awards. Swift also won an MTV music award, a feat unheard of in country music.
Renae Holloway, a senior at California Baptist University is a fan of Swift.
"I like Taylor Swift because she sings about real emotions and real issues," Holloway said. "Her music also has a youthful feel to it."
In January 2010, Nielsen Sound Scan listed Swift as the top selling digital artist in music history with over 28 million digital songs sold. Taylor Swift has not only been successful in capturing the 13 to 24 age demographic but, like Rascal Flatts, she keeps the older demographics enthralled as well.
Country music was called the "rap" of middle and southern America, since it taps into the everyday life of Americans who can relate to its struggles and victories. Country music is very popular for its strong sense of patriotism; this is demonstrated in the number one singles, "American Soldier" and "American Ride," by Toby Keith, and "Only in America" by Brooks and Dunn.
The old face of country music was aimed towards the older demographic of the middle and southern populations. The new face of country refuses to be stereotyped any longer.
The new face of country music embraces the whole of the population and is even accepting of former rock 'n' roll artist, Darius Rucker. This is an example of how country music can be very adaptable.
Darius Rucker, who is African-American, has only been on the country scene for a few years, but already has a certified platinum album and five singles, three of which have been certified gold.
It is safe to say country music is going to be around for a long time. Nationwide, there are over 2,000 country radio stations. Country music artists are capturing the young demographics as well as keeping their older base. Toby Keith agrees, "Ya gotta love this American ride."