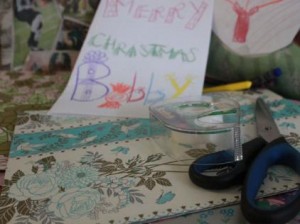 Tis the season to be jolly, fa la la la la,lalalala…
Buy a gift and wrap it nicely, fa la la lala,lalalala…
Buying a good gift involves some thought, consideration and creativity, so why stop there? Wrapping a gift should be more than just another task. Here are a few tips to add some extra love for the gift to a loved one.
Presentation
The gift in question was well thought out. It is probably something that will be liked and appreciated, so go that extra step and wrap it nicely. Present the gift in a gift wrap that might reflect the gift recipient.
Pick the right color is a simple sign of consideration. Pick a gift wrap in the receiver's favorite color.
Also, be gender sensitive. This is not a sexist statement, but rather an act of consideration. Men like manly looking gifts, so finding a gift wrap in a matte or lightly textured finish would be a great way to present a present.
Women are more appreciative of visual details. Glitter, patterns, and complimentary colors need to be finely balanced when giving a classy woman a classy looking gift.
-Designs: Pick age and gender appropriate designs for the wrapping paper. Dora the Explorer is great for a little girl, but not for someone's grandfather. Try to find designs that reflect who the gift is for, but if nothing seems to stand out, a solid color is good too.
-Tape: Invisible tape is idyllic. Use only the smallest amount to hold down the gift wrap. If too much tape is used to hold down a corner or side, it is possible that there is too much gift wrap. Also, make sure to press the tape down all the way. This prevents air bubbles and it helps to make the invisible tape, invisible.
-Cutting: Cutting in a straight line does wonders for the presentation of a present. If a straight line can be difficult, and cutting in a perfectly straight line is a practiced skill, then here are a few items that are beneficial:
Scissors with a guiding laser: these really exist, and they really cost more money than necessary.
Exacto knives: for some people these make cutting more accurate, give itatry.
Silly scissors: can't cut in a straight line? Neither can these, hide your flaws with an artistic edge.
Creativity
Presentation is only half of the equation. Be creative with how the gift is packaged.
-Uniqueness: If ribbons and gift wrap seem repetitive, try something different. Wooden boxes, cloth, rope or other everyday items can bring a truly unique touch to gifts. Use Christmas ornaments as toppers and tags for a perfectly boxed gift.
-Odd shaped presents: For presents that are uniquely shaped, placing them in boxes is a safe way to go. This keeps the gift a mysterious surprise and it makes it easier to wrap.
Wrapping a present
Ever had a problem when wrapping either a really small present or a really big present? Remember to plan ahead.
For small presents: Cut out a smaller square or rectangle to avoid unsightly bumps and wrinkles.
For large presents: Try to find large rolls of wrapping paper, or strategically wrap the gift. This can be accomplished by wrapping one half of the present normally, wrapping the opposite half, then strategically placing a ribbon to hide the seam. Avoid patterns or stripes, as this can show an irregularity to those with a careful eye.
Christmas is a season to remember the birth of Jesus Christ, spend time with loved ones and appreciate the love that the season brings for all. Spend time to show all loved ones how much they are appreciated by going that extra step in each detail.
If you have enjoyed this semester's "How to's" or would like to find out "How to" do something new, email ajlacuesta@cbubanner.com.