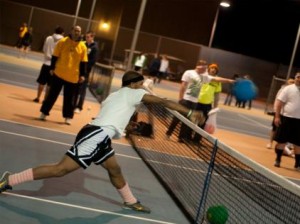 On Dec. 1, the Campus Activities Board held a coed dodgeball tournament on the tennis courts at 9 p.m.
All the dipping, diving, ducking and dodging that took place Wednesday resulted in four teams fighting for the championship: The Fuzz, Rosa Nerds, The Bombers and The Sitting Ducks.
Rec sports coordinators Will Byers and Chris Cox were in charge of the event.
"We only had a day or two to advertise for sign-ups, so we are very pleased with the turnout," Byers said.
The tournament began with 24 teams playing across four courts. Hundreds of students huddled around the courts, in the cold weather, to watch the teams battle for the title as the school's top dodgeball team.
Balls flew everywhere as the tournament worked its way toward the championship match, which ended just after 11 p.m.
Jake Hartson was on the championship team, The Sitting Ducks, along with Taylor Welch, Julie Prins, Hannah Price and Ian Price.
"Dodgeball is a great sport for fun and fellowship," Hartson said. "There was no way I could turn it down knowing the potential fun that awaited me."
The teams were made up of six players, of which at least two had to be females. The goal was to get all of the players on the other team out.
There were six balls in play on each court and to get the balls at the beginning of the match, the teams had to sprint to center court.
In order to get an opposing player out, the teams had to do one of three things: hit an opposing player, catch a ball thrown by an opposing player or use their ball to knock a ball out of an opposing player's hands.
In addition, when a player caught a ball, they were able to bring another player from their team back into the game after being knocked out.
The final match was between the Sitting Ducks and The Bombers.
In a close, best two out of three battle, the Sitting Ducks came away with the victory and were rewarded with iTunes gift cards.
"Expectations were to have a superbulous time. Winning was in the back of my mind, but in the game of dodgeball you can only think one ball at a time," Hartson said.
The second place Bombers received a giant donut, to share.
"CAB did a great job hosting the event, it was organized and the fun atmosphere was definitely present. Free headbands are always welcome," Hartson said.
CAB is responsible for all of the main recreational sports on campus each year: Football, Volleyball, Basketball and Soccer. They host one tournament each semester.
"We've been thinking about ultimate frisbee or innertube water polo for next semester's tournament, but nothing is set in stone yet," Byers said.