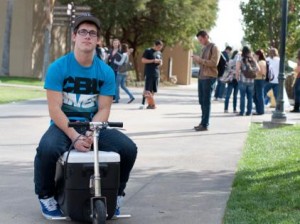 Steven Crayne, freshman graphic design major – if his name does not sound familiar, his form of transportation will definitely jog your memory. Crayne rides a motorized ice chest, otherwise known as the Cruisin' Cooler.
A friend of his won it in a magazine drive in high school. For years he saw it in a trash pile in his friend's garage. The cooler no longer held a charge and his friend was going to throw it out. His friend said, "If you can fix it, it's yours." Crayne considers himself a handy guy and began trying to figure out how to make it work again.
He found a wire that was loose and put it back on, which was exactly what the cooler needed.
He brought the cooler with him to California Baptist University but upon arriving on campus he found that he would be living on the third floor of Smith Hall.
This posed a problem because the cooler needs to be charged in order to run. When he needs to charge it he has to carry it up the stairs.
Since he came to CBU he has learned to long board which resulted in switching between the two modes of transportation; so he only has to charge the cooler every other day.
Other students constantly stopped Crayne when he first began riding his cooler to class. It's not everyday one sees a person riding around on a cooler. He even let's people take a ride on it.
The first three weeks of school he was able to ride the cooler with no problems. However, one day he came out of the James building to discover a $50 parking ticket. The parking ticket was issued because the motorized ice chest is actually illegal on campus. According to the Vehicle Code & Bicycle Operation section of the CBU handbook, "The operation of motorized mini bikes, pocket motorcycles, gas powered scooters, and/or other off-highway vehicles are not permitted on campus at any time." Crayne found the ticket humorous because it read "make: motorized, model: ice chest". He then scanned it and posted it on his Facebook, which eventually made its way to Kent Dacus, vice-president, enrollment and student services.
The administration and public safety do not have a problem with Crayne's motorized cooler. They are in the process of getting the rules in the student handbook rewritten and have waved each of the three tickets he has received.
Though the rules in the student handbook are still in the works of being rewritten, administration has given Crayne permission to ride his cooler around campus. If you see Crayne around campus be sure to check out his sweet set of wheels. He may even let you take it for a spin.