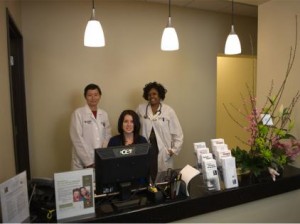 A new healthcare service for the California Baptist University community opened Jan. 24, just around the block.
Located in the Lancer Plaza (formerly Adams Plaza) facing Diana Street, the CBU Health Center exclusively services CBU students, faculty and staff in an urgent care capacity.
In the first three days, 26 patients were seen. Lauri Linton, director of clinical services for the clinic, explained they are able to deal with most non-emergency cases.
"We'll treat colds, any kind of everyday stuff that a student might have, strep throat, any of that kind of stuff can walk in. Instead of trying to find an urgent care in the area, they will be able to come here," Linton said.
Patients with non-emergency needs can walk in 8:30 a.m. to 5:30 p.m. Monday through Friday. They have to swipe their CBU ID card to gain entrance to the building.
"If it's an acute thing like a fracture, we'll stabilize it and send it over to our urgent care at our main clinic, which is only five minutes from here. We will have one physician here at all times. We have three exam rooms," Linton said.
The CBU Health Clinic will be equipped to service many recurring health needs including: sports and nursing physicals, flu shots and ISP immunizations.
Kent Dacus, vice president for enrollment and student services, has been working to get on-campus healthcare services for students for years.
"I've been wanting a health center probably for the last eight or nine years but it has not been economically feasible and we probably didn't have a critical mass of students," Dacus said.
The CBU Health Center moved forward as a result of a partnership between CBU and Riverside Medical Clinic.
"Riverside Medical Clinic, I just can't thank them enough for all they have done to make this possible. CBU couldn't afford the clinic without the partnership of Riverside Medical Clinic," Dacus said.
Existing RMC patient's medical records are available electronically and any treatment will add to their existing record.
"Any student with an ID card will be seen. Our traditional students have to have a health plan, but our OPS and our graduate students are not required to have insurance. So I made sure if somebody does not have insurance, there is a cash plan," Dacus
said.
Most major insurance plans are accepted, except Medicare. If a particular healthcare plan is not accepted, or their primary care physician is not RMC, students can also use the cash pay option.
The clinic has a rate schedule for cash pay treatments that starts at $23.
"You can always call and ask what it would cost to come in," Kris Smith, administrative assistant for Dacus, said.
"Sometimes it makes sense for a student who maybe their primary care doctor is in LA, but they have a sore throat or they are sick, for $23 they can probably go over there and see a doctor and get a prescription," Smith said.
The CBU Health Center is just the first part of this new building, called the CBU Wellness Center. "The second phase of this is to move the Counseling Center into that building and then have a wellness center," Dacus said.
Dacus noted that student's privacy is taken seriously by the clinic. Since it is actually run by the RMC, the university is not informed for what students are being treated and have no access to student's medical records.
"The CBU Health Center is going to make us a healthier community. Students are a little intimidated by the whole medical process and this allows them to go in and feel safe,"Dacus said.