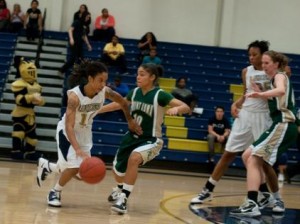 The California Baptist University women's basketball team is off to a historic start to this season.
Their start catapulted them to a National Association of Intercollegiate Athletics (NAIA) number six ranking. This is a record setting achievement for a program that has never been ranked inside the top ten of the national poll.
However, for this team of 12 young women, it is about more than just their wins and losses. As a source of inspiration, the team uses Romans 12:10 as their team verse. The verse focuses on love of one another and behaving with a sense of honor.
"This verse is a great way to measure the pulse of our team," Head Coach John Marcum said.
In his first year at CBU, Marcum has brought a brand new attitude and outlook to this team that has experienced turmoil in recent years with several controversial coaching changes. Marcum looks to change the nature of this team by bringing in a fresh philosophy, instilling an attitude of gratitude.
"I realize that in order to reach these ladies, I need to coach their hearts, not their heads," Marcum said.
On the first day of practice, each member of the team received a three ring binder that had a picture of the gym where the NAIA National Tournament will be held. Marcum himself admitted that this was a bold move for a coach in his first season with a new program, a program that did not even make the playoffs in its own conference last season.
It is not looking so bold now as the lady Lancers are off to a blazing start behind newcomers Dana Olson and Vitalija Vasciunaite and returner Brenna Hahn.
Inside of those binders are hundreds of sheets of paper, including inspirational quotes, team rules, university rules and homework. This homework includes game prep papers, such as scouting reports and other valuable tactical supplies, but more importantly it includes character building content.
The team participates in 40 minutes of mental work each day before they even hit the court. Marcum says that his goal for his team is that the players will realize what God has in store for them.
"In that, we will achieve victory beyond competition." Marcum said.
This season the team has been working out of two books. The first is "The Winners Manual", written by Ohio State University football coach Jim Tressel. Marcum took what he calls the "C Block of Life" from this book.
This is a grid that he had each player fill out during the first week of practice. The grid is a tool that helps the players realize their personal purpose and define what their personal goals are in categories such as family, spiritual, basketball and academics. The team has been working out of "Greatest Coach Ever", written by the legendary University of California, Los Angeles basketball coach John Wooden.
This year's women's basketball team is playing with an attempt to redeem a program. They are working hard on and off of the court because they recognize that talent wins games but intelligence and teamwork win championships.