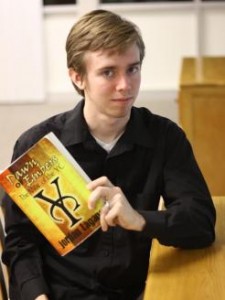 Jordan Lagana is a blond haired, blue eyed freshman living in Smith Hall 2B. Take a walk around California Baptist University and he would not really stand out amongst the students upon first glance.
He is however, rather unique and can proclaim one achievement that others strive for. Jordan Lagana is a published author.
Lagana has written many stories for as long as he remembers. Authors such as Lemony Snickett, JK Rowling and Daniel Quinn inspired him to write. Over the years he developed his style, and it would change as he matured as a writer. Eventually his "voice" finally came out.
His first published novel, "Dawn of Embers: The War of the YC" began as a series of dreams during eight grade. Lagana then organized his thoughts during his freshman year of high school. Lagana worked on it throughout most of high school and Publish America picked it up shortly after his high school graduation.
"Dawn of Embers: The War of the YC" follows Mitch Timber, an unsuspecting teenager thrown into the 7,000 year-old civil war of the YC. Mitch is the key to ending the war, but he is plagued with not being able to distinguish between friend or foe.
"This book is a critique of society," Lagana said. "People shouldn't believe everything they hear."
Lagana, like many authors, struggled with different parts in putting his novel together.
According to Lagana, some of the simpler obstacles were naming the characters. The hardest thing for him was to write the 150-word synopsis at at the back of the book. "I took the whole two weeks that they gave me," Lagana said.
Throughout the writing process, Lagana learned many lessons. "People told me that I was crazy because I was young," Lagana said. "But I would say that there is no status quo, no threshold. It doesn't matter how young you are, with drive and passion, you can do almost anything."
Lagana notes that his youth also makes for a better selling point as an author. He has had a few book signings last semester, a fan page, and a webpage to help promote his novel.
In the end, however, one of the biggest lessons he learned in getting his novel published was figuring out who to talk with. "Different teachers and mentors were giving me advice, but through this experience I know who I would talk to," Lagana said.
From this first novel, Lagana hopes to plant seeds, ideas and messages that will develop as this series comes together.
His novel is available at Amazon.com