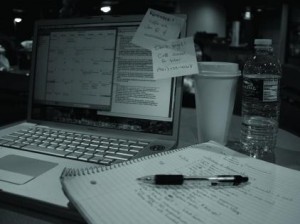 Cramming in homework often leads to late nights, energy drink consumption, lack of sleep and lots of power naps. Procrastinating is simply a bad habit that far too many college students have.
The best way to avoid procrastinating is to be proactive with scheduling time between homework, church, friends and family. Here are a few tips to make the most with the 168 hours that are in a week:
Calender
– Every school year, California Baptist University provides a free planner to students. Since this calender is free, it is strongly recommended that each student pick one up. This planner not only functions as a great resource to write down important dates, it also has all the athletic events and other major campus-wide activities like Seek Week and 24@CBU. The planner also has dates when school is not in session.
– Every semester, professors give syllabi to students that have schedules of assignments and when they are due. It is definitely a good idea to use that free planner and write down due dates for assignments, tests and projects. Knowing what needs to get done ahead of time will help cut down on late night, last minute cramming.
– Another way to help keep due dates in order is having a daily desk calender. Go through it and add the events to each date. It also helps to put milestone checks a couple of days before major projects are due. These milestones serve as reminders on what needs to be done.
Technology
– For all of the tech-junkies out there, most phones have a calender/ planner application or function of the sort. It does not take too long to set up a class schedule with homework due dates and alarms that reminds the owner when assignments are due.
– Many CBU students have numerous Apple products at their disposal ranging from iPods to MacBooks. These products are able to sync together and when one is updated. It is very easy to update all the calenders on the iCal application.
Time management
– One way to maximize time for homework is to make time for it. Dedicating a set time to do homework promotes responsible time management and helps keep a schedule to finish homework.
– Find time to have fun. When there are planned events to look forward to, these activities help set priorities so that projects get finished in time and fun activities are enjoyed without lingering thoughts of what needs to be done.
Avoid distractions
– Distractions often lead to procrastination. These distractions, such as television, movies and late night food runs, can be avoided by simply not participating. It will be difficult but necessary for some to unplug the television during the week and plug it back in on weekends. Also, avoiding weekly trips to the movie theater saves money and time, both of which are valuable to college students.
– Try a Facebook fast. On any late night, there are numerous updates on Facebook from students who complain about not being focused on their homework. Try not going onto any social media website for a week and see how much time is suddenly opened up.
Hopefully, this is a helpful article that is useful for everyone that reads this. If there is anything that you want to know how to do, send an e-mail to ajlacuesta@cbubanner.com.