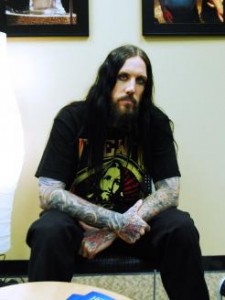 On March 6, 2011 at Crossroads Christian Church in Corona, No. 26 of Guitar World's 100 Greatest Heavy Metal Guitarists of all time and ex-member of the heavy metal band Korn, Brian Welch, gave his testimony.
Korn is a heavy metal band that released six CDs in total. Over $25 million dollars was earned in addition to sold-out arenas, tickets and fans. Korn was immensely popular in the early 90s. Fame, money, girls, and drugs was the lifestyle that each member of Korn knew very well.
But on Feb. 22, 2005, Korn's management announced that after almost 12 years of Welch's extreme partying habits, drug and alcohol addiction, he would part ways with the band.
"I let the Lord take me and its been the most exciting never boring life that I have ever lived," Welch said.
Welch told a story about a dream he had while on an airplane with the heavy metal band Metalica. He explained that this dream was a sign from God to quit using drugs like methamphetamines and cocaine.
The airplane he was on suddenly caught on fire. He then floated away into heaven and felt immediate peace. At that moment, he knew he experienced a taste of heaven.
Welch has a daughter who is now 12-years-old. Not only did she grow up seeing her father use drugs but also witnessed him beating his wife. Ever since he left his old life his relationships have been completed renewed.
"My daughter made me want to be sober and drugs were taking over my life, it was either the drugs or me becoming a better father to my daughter," Welch
said.
Welch left millions of dollars behind, including fame, fake friendships and an empty soul that was numbed by drugs.
Welch explained how the apostle Paul had to get away from everything to be close to Jesus. He related this story to himself because he had to leave his rock star life in order to pursue a life with Jesus.
Welch said that ever since he has become a Christian, he realizes that there is a dark, spiritual realm that is so evident and clear.
"Jesus wants to come into your life and transform you from the inside out and all the money, fame and music in the world can't give you the high that Jesus Christ my Lord and Savior can," Welch said.