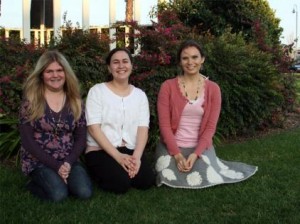 The members of California Baptist University's FAITH Club truly grasp the meaning of community involvement and servant hood.
A recent addition to the campus community, FAITH Club has undergone an exciting year of change, growth and new experiences. Its members are eager to see how the group will continue to develop, expand and engage in new opportunities in the future. They are dedicated and determined, yet open to new recruits and fresh ideas.
FAITH Club embodies the acronym after which it is named: faith, action, integrity together with our heritage. The club is committed to leaving a legacy through reaching out to the local community and engaging in environmental projects and other volunteer activities.
"I would define it as a community service involvement club, in which we get to not only help to get the whole CBU community involved, but also go out and minister to the community through action," Yessenia Ramirez, vice president of FAITH Club, said. "Our purpose is to outreach to the Riverside community and help with whatever they need."
"My favorite thing is getting together and going out into the community, whether it's something small or big, knowing that you've helped contribute to their event, whoever is sponsoring the event," Yessenia Ramirez said. "It's a great feeling."
Dayana Ramirez, president of FAITH Club, explained that she had been involved with a similar club in high school and wanted to create a club at CBU that would create opportunities to give back to the local community.
Along with Irene Zumaya and Yessenia Ramirez, Dayana Ramirez established the club in 2009 under the leadership of Assistant Professor of Spanish, William Flores. Originally, the club was known as MELCA, an acronym for Movimiento Estudiantil Latino de California, which translates to Movement of Latino Students of California.
In its first semester, the club faced a rocky start and kept a low profile. However, in the spring of 2010, the club was amended and began a new year with a fresh vision and a new name.
Club members demonstrate their FAITH through their actions on a regular basis. "It really is a lot of fun. It's a good experience and a great time to share our faith and show people we do care without being too much in their face about it," Amanda Angel, sophomore major, said.
Yessenia Ramirez said the club has opened her eyes to the surrounding region as well as given her a newfound appreciation for the devotion of local volunteer organizations with which the club partners.
"You don't realize how much people contribute their time until you're actually there yourself contributing your time with them," Yessenia Ramirez said. "You think, 'Wow, I never realized how much commitment goes into this work.'"
On Dec. 18, 2010, club members had the opportunity to help decorate floats for the famous Rose Parade in Pasadena. Despite the rain and the need to rise before the sun, the club was eager to dedicate their time and effort to aid in the creation of a float commemorating the veterans of Sept. 11.