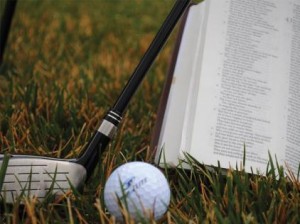 The California Baptist University golf team is a unique group led by head coach Lane Pace and assistant coach Joe Prince. There are 23 team members on both the men's and women's teams.
Golf is an old game that originated in Scotland around 1457; it is a popular game that is played worldwide. Golf itself is more than just a game, it is about personally overcoming obstacles in order to achieve a goal.
"I love playing golf because you can never beat the game because there is always something to work on. Every time I go out and play I want to perform at my best. I believe that there is no other sport that tests you as much mentally as golf does. It demands your attention and one-hundred percent focus every time, all shots, at all 4-5 hour rounds," golfer Fredrik Hansson said.
Golf is more than a sport because it has also been used to describe a person's life, such as in the book "The Legend of Bagger Vance", by Steven Pressfield. In this book, how one plays the game is a model of how one lives; a golfer's life outside the game.
"Inside each and every one of us is one true authentic swing, something we were born with, that's ours and ours alone, that can't be taught to you or learned, that's got to be remembered," Pressfield said.
Whether this is true or not remains to be seen, but golf is revered as a game of strategy, adaptation and fluidity.
CBU's golf teams appreciate the competitive athletic side of the sport and they have proven to be very successful at the game. Despite a few setbacks at the California State University, Bakersfield Invitational, the teams remained focused.
Focus is huge to the coaches and the players. They understand the importance of the next few invitationals, as they attempt to qualify for the National Association of Intercollegiate Athletics national tournaments in late May.
"I want to help the team to perform at its best. I really like our team and I believe that we can do really well. Every time I go out and play for CBU, I play my hardest for us and it feels great to be a part of such a nice team. If I qualify for nationals, which I hope I will, I'm looking forward to playing my best and helping our team to success," Hansson said.
The team's next event will be a men's and women's competition hosted by CBU, March 21-22.