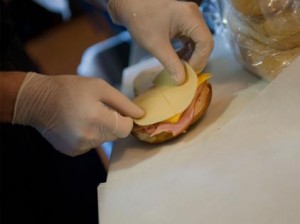 For a delicious gourmet sandwich, students need look no further than Brisco's, California Baptist University's newest addition to the dining family.
Creativity is all that is required to transform this on-the-go eating establishment into a gourmet sub shop and turn the average college student into a sandwich aficionado.
Brisco's offers an array of sandwich options, including specialty breads, condiments, meats, cheeses and vegetable toppings. For added tastiness, any sandwich may be toasted. With plenty of options, there is no need to settle for a boring bagged lunch.
For a tasty sandwich that is anything but dull, try one of these mouth-watering selections, offered only at Brisco's.
Toasted Pig in a Blanket
This tasty sub will make you feel like a kid again.
Ask for ham, cheddar cheese and provolone cheese to be toasted on pretzel bread. The result will be a toasty, cheesy delight that is sure to please the palate. This unique twist on a classic grilled cheese sandwich may be dipped in ketchup, ranch dressing or even enjoyed dry.
Vegetarian Ciabatta Melt
Sample this meatless melt with a Mediterranean flair.
Ask for provolone cheese to be toasted on ciabatta bread. Add hummus, tomato slices, spinach, marinated bell peppers, red onions and olives. Take a bite of this scrumptious medley and tell mom to rest assured you really are eating your vegetables and enjoying them too!
Smokin' Turkey
This selection offers classic flavors with a kick of spice.
Order a turkey sandwich on wheat bread. Bring zest to this traditional favorite by adding chipotle mayonnaise and Pepper Jack cheese. This sandwich may be ordered cold or toasted. Top with lettuce, tomato slices and red onions for a traditional sub with a spicy side.
The Italian
Experience a taste of Italy without the travel expenses.
Toast ham and provolone cheese on white bread and top with tomato slices and olives. For extra zing, include sweet peperoncini. For the final touch, sprinkle crushed red pepper as desired. Small packets of crushed red pepper can be found by the check-out, near the dressing packets.
Barbeque Blitz
Chomp into sweet, tangy goodness.
Order a roast beef or turkey sandwich on white bread, topped with cheddar cheese. Top with lettuce, pickles, red onions and salt and pepper. Once you have your sandwich, add your own barbeque sauce, found by the utensils in the main dining area. Be sure to grab an extra packet of sauce for dipping.
Brisco's provides countless options for appetizing sandwiches on-the-go. There is no need to venture off-campus and spend extra cash when delicious options are just within reach and can be obtained with a meal swipe. Get creative and produce your own favorite combination. The possibilities are endless.