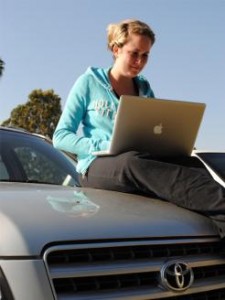 Considering car insurance options is not typically a major priority for most students because it is either overwhelming or misunderstood.
Whether a student must pay for their own insurance or are under their parent's coverage, it is important to be educated about varying options and benefits offered to young adults.
There are numerous steps students at California Baptist University can take to lower their rates and prepare for the future as they enter the workforce and begin to cover their own expenses.
The most basic step in selecting an auto insurance carrier is to research. It is helpful to be familiarized with the types of coverage options, student benefits and rates that are offered. An understanding of these fundamentals will make it easier to compare quality and price.
www.studentdriverinsurance.com provides students with several recommendations in this selection process, including asking older friends to share their personal experience and seeking their opinions about insurance plans.
Different plans provide varying amounts of coverage. Consider how much money a particular insurance plan will cover. Also, consider which incidences are included in the coverage, including personal injury, accidents involving an uninsured party, property damage, car theft and injury to other motorists.
Most insurance companies offer auto insurance discounts to students with high grades. Although requirements may differ between states and insurance companies, www.dmv.org outlines the most common qualifications: the individual must be a full-time student between the ages of 16 and 24 and sustain a GPA of 3.0 or higher. Most carriers require for this criteria to be met on a yearly basis, motivating students to strive for academic excellence throughout their college experience.
In addition to academic achievement, additional factors will have an effect on the cost of auto insurance. Many of these factors, outlined by www.studentdriverinsurance.com, are easy to control in order to lower costs.
The type of vehicle students want to insure will influence the cost of overall coverage. For students considering buying a new or used vehicle, this is an especially important factor to consider. The newer and more expensive the vehicle, the higher the insurance rates will be. An older yet reliable car may be a better option for students looking to save money.
In addition to personal safety, low insurance rates are a motivating factor in maintaining a spotless driving record. The better the driving record, the lower the insurance rates will be.
Some driving schools offer defensive driving courses to provide drivers with additional knowledge and skills. Many insurance companies will offer cheaper rates to drivers who have completed these and similar classes.
The choices students make today will influence their insurance rates both now and in the future. When it comes to auto insurance, there are plenty of options for college students and it is important to educate oneself, make comparisons and take the necessary steps to ensure the best rates possible.