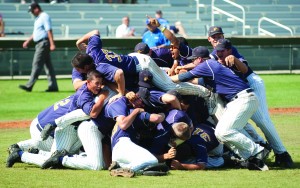 The California Baptist University baseball program ended its 2010 season in a new location: the NAIA World Series, after five years of not being in the tournament.
After a program record of 49 wins, Point Loma Nazarene University sent the Lancers home from Lewiston, Idaho after losing game three of the NAIA World Series. Though their performance during the series was less than satisfactory, Head Coach Gary Adcock is optimistic about the team and their determination to return to Lewiston in 2011.
"This was a very cohesive group," Adcock said. "It was a group that I didn't have to worry about off the field or in the classroom. They were very self motivated."
With a stellar season performance behind them, the Lancers have momentum going into the 2011 season as most of the team is returning. A team consisting of young players taking leadership roles, like Cole Bullard and Matt Johnson who both started as freshman for the Lancers, provides a core group that is here to stay.
With the loss of NAIA Gold Glove winner Garrett Rau, who is now in the Boston Redsox farm system, as well as first baseman Zach Hedges, Adcock is looking to his younger players to step up and fill those positions. With a strong outfield returning, as well as a solid catcher and pitching staff, Adcock looks at these vacant positions as important roles to be filled.
"Replacing Rau at shortstop and Hedges at first will be key," Adcock said. "Our outfield as well as catching will continue to be our strengths."
Starting pitchers Taylor Siemens and Drew Madrigal look to lead the pitching staff for the Lancers next season with Mike Barro looking to provide solid relief from the bullpen.
Siemens was the Golden State Athletic Conference (GSAC) pitcher of the 2010 season with 12 wins and a 2.62 era. Madrigal finished the season with 96 strikeouts and earned 11 wins.
The Lancers acquired junior college transfer Devyn Rivera from Chandler-Gilbert Community College in Chandler, Ariz. Rivera boasted a 1.63 era with 97 strikeouts in the 2010 season and was a part of Arizona State University's 2009 recruiting class. According to thesundevils. cstv.com, Rivera was ranked the 399th best high school player in the country by Perfect Game Cross checker.
"[Rivera] will be a good replacement on the mound," Adcock said. "We are bringing back the conference pitcher of the year, an ASU signee, as well as a fourth pitching spot battle between Erik Wallace and Jesse Areolla who went a combined 13-2 last year. Our starting pitching looks good."
Returning players proved to be a key part of the Lancer's success in 2010. With only three players not returning from last year's team, Adcock is very optimistic about the 2011 season. There is a core group that is staying intact for another season.
"They believed in themselves," Adcock said. "It always starts from the seniors at the top."