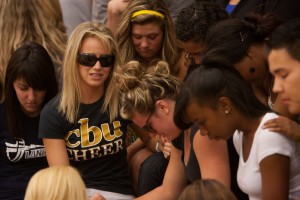 "She will continue to cheer in heaven," Director of Athletics at California Baptist University Micah Parker said during Coach Wendy Rice's memorial. Coach Rice may also "give the angels 'pointers on how to do it better' for the next soul," Parker added.
The private campus memorial, held in the Van Dyne Gymnasium on Aug. 13, started at 2 p.m. with a welcome from CBU President Ronald Ellis. Ellis welcomed faculty, staff, athletes and students who came to honor the cheer coach who died on Aug. 9 in a traffic collision near Bishop, Calif.
She passed "doing what she loved to do," President Ellis said. Rice was "serving the student athletes."
Ellis then gave a brief biography of Rice's accomplishments as the second cheer coach for CBU.
In addition, Ellis informed those in attendance of CBU administrators' acts upon learning of the accident. He stated that personnel were dispatched to the four hospitals in which the six injured athletes were transported.
President Ellis informed the CBU community of the condolences sent from friends near and far. He told the audience that Sherman Indian High School, located along Magnolia Avenue, would dress in blue and gold in honor of Rice.
He closed with a scripture reading of Matthew 25: 33-40 and a direct address to Rice.
"Wendy, we miss you," Ellis said. "But your life and your passion are part of CBU history."
Immediately following Ellis' speech, Lynnea Sjoerdsma played and sang a hymn for Rice. Sjoerdsma is a member of the cross country team that Coach Rice volunteered for and drove members to their training camp when suddenly the unexpected occurred. Sjoerdsma exited the stage with the help of crutches and Kent Dacus, vice president for enrollment and student services.
The next minutes consisted of cheer squad members' sharing memories of their time with Rice. Megan Whitehurst, senior and cheer captain, said that Rice was a "tough coach" who "expected the best" from every person on the team.
She cited one of her team's practices when Rice asked the girls to share their favorite Bible verse. Rice also participated and Whitehurst said the coach's favorite was Isaiah 40:31, which mentions that those who place hope in the Lord will soar on wings like eagles.
Sophomore cheerleader, Olivia Miller, said that Rice "brought out the best" in her.
Rice saw "people for what they could be and what they could achieve," Miller said. "She would always say 'committed to the process, unattached to the result.'"
According to Miller, Rice wanted the girls of the cheer team to be motivated throughout their practices and competitions regardless of whether they won or lost.
Miller said now the girls on the team will use Rice as their motivation for the next season.
Parker preceded and began his anecdote of Rice with a comparison. He said that athletics and Christianity are similar, "like a race." There is "training that is continuous, sacrifice, discipline," Parker said. Parker also directly addressed the Rice family and the cheer team.
Aaron Scott, a CBU alum and member of the Lancer mascot team, then performed another musical selection titled "Wish You Were Here" before John Montgomery, dean of spiritual life, delivered a message of hope.
Montgomery told the audience to keep hope alive "because God is good and God wants us to know and experience his goodness."
"Wendy is alive today in the presence of her savior" because she believed and had hope in him, Montgomery said.
To close the service, senior cheer member Amanda Brown gave a heartfelt prayer as tears fell down
her face. She told of times when Rice's daughter, Caitlyn, would come to the team's practices and become the member's own cheerleader.
As Brown continued her prayer, Montgomery stood beside her. And as a final plea, she asked "Can you help us to have hope in you, Lord?"
The CBU community quietly exited the gym when the ceremony concluded. Several stayed to offer their condolences to the Rice family.
A scholarship was created, titled the Wendy Rice Endowed Scholarship fund, to help cheer team members with financial need.
For additional information, con- tact Institutional Advancement.