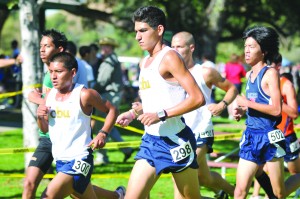 California Baptist University athletics has definitely been on a roller coaster this year. One of the teams that struggled the most is the cross country team after 12 players were hospitalized in a car accident that took the life of beloved cheerleading coach Wendy Rice on Aug. 9.
In the first meet of the season on Sept. 4, the men's team took fourth place out of 18 schools and the women's team took 12th place out of 24 schools. According to Coach Watkins, this was a great start and it was good to get the first match out of the way.
"The men's team is doing great this year; we should be nationally ranked at the end of the season. And we're expecting the women's team to be about fifth or sixth in the conference," Watkins said.
Coach Watkins also said that he tries to keep a balance in the matches; a difficult match followed by a lighter match. Watkins went on to say, "We're not afraid to take on any competitor."
The Lancers are up for any challenge and even compete against NCAA Division I schools, as well as fellow NAIA schools.
With the many concerns around campus about the status of the athletes involved in the crash, the truth is that all athletes are recovering outside of the hospital and are back in classes. However, Watkins says there are still seven runners who may not see the track this season.
When asked about the situation Watkins went on to say, "This month has been amazing; we've really rebounded as a team. All of the support and prayers have been greatly appreciated; we can definitely feel CBU behind us."
After the Redlands invitational on Sept. 10 the men's team took first place with 29 points, giving them CBU's first invitational win as a team, and defeating defending junior college state champions San Bernardino Valley College. The women's team also did well taking third place with 72 points.
Coach Watkins was pleased with the results and said "the race tonight went as planned. We went out with a specific game plan and pretty much everyone followed it perfectly."
The teams have shown their ability to persevere and keep going strong. With the obstacles the teams have gone through in the past month, support from all of those, immediately involved or not, gave the teams inspiration to face the coming season. The Lancers Cross Country teams are going the distance this season.