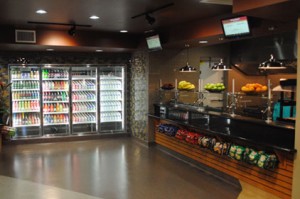 President Ronald Ellis and other members of California Baptist University administration gathered at the entrance of Brisco's to take part in a dedication ceremony of Brisco's Village cafe on Sept. 30.
The private reception began at 2 p.m., held in honor of the donors and their respective families at the site of the new eating facility.
Ellis spoke of the initial envisage of this project.
"This is one of those dream projects that really had a lot of history to it," Ellis said.
The now late Eugene Yeager and President Ellis sat down a few years ago to discuss the possibility of a new eating area on campus.
"Growth of the institution continued and we began to make plans," Ellis said. "The Brisco's got involved and between the Yeager's and the Brisco's, it has just been a wonderful thing."
Both Eugene and Billie Yeager and Tom and Teri Brisco made significant contributions to CBU for the development of the new eating area.
"We really want to thank all of those who had a part in this," Ellis said.
Followed by Ellis' remarks was the unveiling of a plaque, which reads, "California Baptist University is pleased to name and dedicate Brisco's in recognition of the generosity of the Thomas G. and Theresa L. Brisco family and Eugene and Billie Yeager."
This plaque is displayed on the wall next to the entrance of the building.
Tom Brisco also expressed gratitude for being able to be a part of this project.
Through tears, he said, "When you offer to help some organization like this, you don't expect this sort of thing. We are very honored."
Brisco's will officially open Wed., Oct. 6.