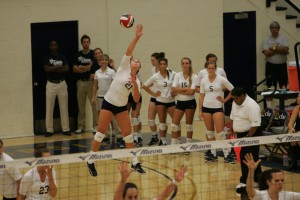 The women's volleyball team of California Baptist University defeated rival Azusa Pacific University in four sets Thurs., Sept. 9.
With a crowded Van Dyne Gym, the CBU women proved that they deserve their first place ranking in the Golden State Athletic Conference (GSAC).
CBU is currently ranked third in the nation for the NAIA division.
CBU students in attendance sported their new "Crazies" T-shirts with excitement for another successful season from the Lancers.
Head Coach Ryan McGuyre has guided the Lancers through 12 straight victories on the road this season.
Led by junior Bree Rauschenbach, the Lancers displayed dominance over the Cougars at home with powerful and elusive serves. Rauschenbach tallied five aces for the match, bringing the team total to 11 aces on the night.
With an overall record of 14-0 this season, the Lancers came into this game thinking of APU as just another team. Mental preparation and determination aided in CBU's victory over the Cougars.
"This game we prepared ourselves mentally for going hard and not thinking that this team is different from any other team," Rauschenbach said.
After beating the Cougars in the first two sets (25-17 and 25-18), the Lancers engaged in a brief mental lapse, allowing APU to win game three 25-21. But, the Lancers came back in game four with determination and sealed the deal with a 25-20 score.
With a perfect record going into conference play, the Lancers are confident in their ability to continue their streak of dominance.
"This is starting off conference really strong for us," Rauschenbach said. "We have a lot of new players this season and I think that it's just giving us the confidence we need going into conference play to beat other teams like Concordia and Fresno."
With support from teammates Ingrid Carmona (12 kills), and Jessica Kalama (9 kills), Rauschenbach completed 10 kills on the night. Outside hitter, Linjun Ji also contributed eight kills to the night's win over the Cougars.
Rauschenbach stresses the importance of maintaining focus on what lies ahead for the Lancers. With tough games on the horizon, mental concentration will be key for successful conference play.
"This game has prepared us to mentally stay focused because we have the physical talent, we just need to stay there mentally," Rauschenbach said.
The next home game for the Lancers will be Sat., Sept. 18 against GSAC opponent San Diego Christian University.