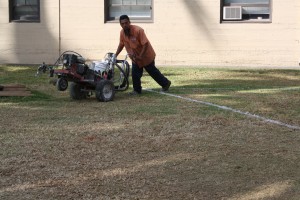 California Baptist University administration developed a creative solution for parking this school year.
Four new parking lots with 290 spots were opened on sections of grass throughout campus. Campus Drive also received 30 parking stalls on what was the outer south-bound lane.
In the past 5 years, enrollment has increased by 41 percent from 2905 to 4105 last year. There has been no new parking construction during this time, parking has become a challenge.
At the beginning of the 2007 school year, President Ellis announced plans for a parking garage, and in early 2008 plans were put on indefinite hold due to economic concerns. However, this year promises to hold record-breaking student enrollment.
According to the Admissions Office there are an estimated 1300 incoming undergraduates filling the void left by the 925 students that graduated in last year's Spring Commencement.