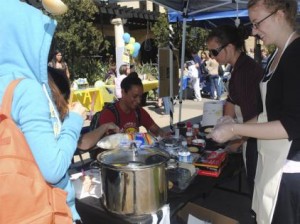 Students hoping to get more involved in the California Baptist University community browsed approximately 25 informational tables that represented various clubs on campus, on Oct. 8.
The club's ranged from major specific to specific interest, creating an atmosphere that offered something for nearly everyone.
"It is an opportunity for clubs to make booths so that students know where the clubs are and what they're about, and then it allows students to connect with people with similar interests," Brooke Hoehne, a campus activities board representative, said.
One such club reaching out to others is Ahlan Wa Sahlan. Meaning "hello and welcome," this club is on a mission to introduce students to Middle Eastern culture from a Christian perspective.
"We want to give people the opportunity to learn about the Middle East and its rich history," Joel Martinez said.
Faith Action Integrity Together with our Heritage, also known as F.A.I.T.H., participated in Friday's event as well.
"Its basically a community service project where we get to outreach to the students and the people in the community," club representative Yessenia Ramirez said.
F.A.I.T.H. is also involved with Keep Riverside Clean and Beautiful, the Festival of Lights, downtown Riverside's holiday celebration and contributes to Harvest Christian Fellowship's Operation Christmas Child.
CBU's Future Teachers Club focuses on building relationships with local schools, through volunteering as tutors, covering yard duties and other services that show their care for the students.
"It also looks good in the future when you need a job because you could be applying to a school district that you served, so they'll know your heart and that you love the children," club member Catherine Knuppe said.
The Cai Hong Bible Study spent the afternoon hand painting people's names in traditional Chinese lettering and discussing their desire to share the truth of God's word and encourage new believers.
The PRSSA club which offers informational meetings on the public relations field was present and provided details about future meetings.
Clubs focused more in a specific subject area were represented as well. "You don't have to be good at math to join the math club," Brenna Hahn said.
"We don't sit around and do math problems and do each others homework; we play board games and watch movies and go miniature golfing."
Tracy Blanchard of the Marketing Club said that membership is open to anyone interested, as learning how to market yourself can be applied to any major.
Club activities include guest speakers from the field, a trip to an ad agency in Los Angeles and a dodgeball game against the accounting society.
The Accounting Club booth was positioned beside their dodgeball rivals.
"Our purpose is to reach out to students who are in the accounting major and the business major and to help them learn essential business techniques, skills and how to network out into the business world," said club representative Brianna Barton.
Described as the "club for everybody," the Anthropology Club had an elaborate display spread across their table.
"It is the most interdisciplinary club that I have ever been apart of in my life, because anthropology, the study of humans and culture, applies to everything," Brooklyn Wagner, a club member,said.
"Right now we are about awareness and having a holistic point of view and having a perspective on the world the way God would have us".
Students interested in these, or any of the clubs on campus, can visit