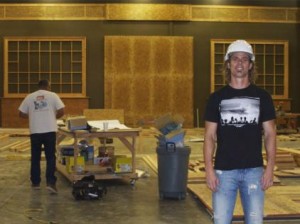 After years of struggling to call a place home, local favorite Sandals Church will move into its own building.
"The new building is located on 150 Palmyrita Ave., in Riverside, Calif. on the back side of the mountain that is up against UC Riverside," Michelle Van Hook, executive assistant at Sandals, said.
Sandals Church called California Baptist University its temporary home for Sunday services since May 2001.
According to the Sandals website, "the new building will be a home where people can discover how to be real with themselves, others, and most importantly God" and the church community is invited to come together as the church opens the doors to its new home."
Our founding ministries were growing and there were times when we wanted to do things and could not. At the same time, CBU extended our lease numerous times," Van Hook said.
Since that time, the church has looked for other facilities where they could make a permanent residence.
"The process is looking for facilities. We knew that our lease through CBU would end in June of 2010," Van Hook said. "We were pursuing every single avenue, including theaters and other places in the city and doors were just closing on us."
Through this time, the church asked members to sign up for 24/7 prayer vigils and a 40 day fasting and praying stint.
"We just asked them to pray for the building and for where God would be calling us to go because things were not finalized," Van Hook said.
It was not until the very end of Sandals' stay at CBU that they were able to receive what they were fighting for – for so long.
"It just so happened that God opened the door for us to move in here," she said.
The website also said that the building was once double the sale price and the owner agreed to sell it to Sandals for half off.
Also, every time a church moves into a new facility they are required to get approval for a "Conditional Use Permit", which means that they are allowed to use the building.
"We were spending a lot of time in prayer for a location so we could have church time on Sundays," Van Hook said. "As time grew closer it just so happened that Magnolia Avenue Baptist Church and The Seventh Day Adventist church opened their doors for us to have Sunday services while construction was underway."
The church has not been able to get that approval yet, but Michelle said, "We have two phases for this project. Phase one includes the building for the main auditorium or the gymnasium, hallways, bathrooms and things like that. We are hoping to have our first service on Oct. 31 but the city has to do a walk through to approve phase one before we can officially use it."
Phase two, which includes classrooms and the rest of the building will be completed in December.