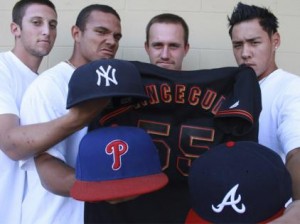 When you hear the word October: autumn leaves, pumpkin spice lattes and Halloween candy may come to mind.
For those sports fanatics, October is all about the Major League Baseball (MLB) postseason.
This year the battle for the 2010 World Series championship title includes the Braves, Giants, Phillies, Rangers, Rays, Reds, Twins, and Yankees.
The MLB postseason dominates the Internet, TV, blogs and internet discussions. Who will take it to a new level? Someone always does the unexpected, steps out of the shadows and makes a vital impact in the playoffs. Already, the Yankees blowout series against the Twins, Rick Ankiel's game-winning homer for the Braves, Tim Lincecum's record setting 14 strikeouts for the Giants, and pitcher, Roy Halladays unbelievable no hitter game. Every pitch, every at-bat, every play; it all counts in October.
So what team should you root for? It's time to turn to the experts here at California Baptist University, the baseball players. They are a strong team for CBU, but when it comes to representing a pro team, there's much opposition.
"I've got to defend my Phillies," junior center fielder, Matt Johnson said. "They have a great coach and I respect the style of baseball they play."
For sophomore right fielder, Matt Marnati it's all about the Yankees.
"You gotta love Robinson Cano. You can depend on him to hit homers under pressure and he's a lefty, just like me."
If you're a fan of baseball, you know that the postseason can bring out the crazy side in everyone.
"I'm proud to be a fan of the Giants," red shirt freshman outfielder, Edward Roland, said. "Postseason is a time to embrace being a fan. We've got people wearing panda hats, Lincecum wigs, and fake beards. No other team has this much spirit."
Die hard Braves fan, A.J. Kissenger, freshman utility player, took one for the team this summer. While attending a game during the Braves vs. Dodgers series, he had a guy throw a drink at him for wearing his Braves jersey.
"I would cry if the Braves won," Kissenger said. "Then, I would go get a Braves tattoo."
Now that's dedication.
While Marnati and Roland are hoping for a Yankee vs. Giants World Series, Johnson and Kissenger want anyone but the Yankees. One thing they could all agree on was the intensity the postseason brings.
So choose a team, grab your friends, watch the games and let the trash talking begin.