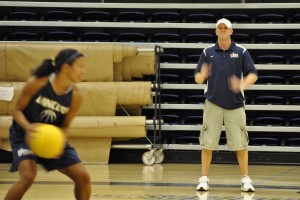 A new women's basketball coach can be spotted on the campus of California Baptist University. Coach John Marcum joined the Lancers in April, taking the head coaching position.
Joined by assistant coach Jeff Caha, Marcum is the program's 9th coach in CBU women's basketball history. This season will be Marcum's first head coaching job at the collegiate level.
Coming out of the Oklahoma Baptist University basketball program, Marcum looks to continue the trend of success here in Riverside. Coaching three seasons with the Bison with an overall record of 90-11 for the OBU women's program, Marcum looks to make a GSAC playoff run with the Lancers this season.
"I definitely want to put a competitive team on the floor," Marcum said. "We haven't been to the national tournament since '82."
Starting his coaching career at the high school level, Marcum found a passion for the game that would take him to the collegiate level after five years at an inner city high school in Oklahoma City. He then spent three years at with the OBU Bison as an assistant coach.
Coach Marcum is looking to stress the fundamentals with his team this year. Emphasizing aggressive play with tough defense and rebounding is his focus for the team.
"Hopefully we're like some junk yard dogs with no sense of entitlement," Marcum said. "Just really selfless, aggressive and disciplined in how we approach the little things."
Marcum is looking to stress mental toughness on and off the court.
"Hopefully I can put the toughest minded and most aggressive team in the conference on the floor."
Realizing that basketball is a game of ups and downs, Marcum is accepting that some things will be out of his control. He looks to prepare for whatever comes his way by working on the things that are under his control.
"There's going to be nights where we can't shoot it on the road, there's going to be nights where your rotations as far as substitution patterns will be dictated by foul trouble and not by what you want to do, so we've got to be able to hang our heads on something. For us it will be defense, rebounding and unselfish play."
As a new arrival on campus, Marcum is looking forward to seeing the support that the student body and fans bring to the games.
I'm still waiting to see what they're like as far as how they support athletics," Marcum said. "From a culture standpoint, I think it's set up to be successful."
With the CBU athletic program only having one year left in the NAIA division, Coach Marcum is looking forward to participating in the transition to the NCAA.
"The growth of the University, the direction they're going, the record enrollment; it's exciting to be a part of the school and the direction it's going," Marcum said. "We're glad to be on board and are looking forward to contributing in any way we can."
Marcum graduated from Oklahoma Baptist University as a history major and played on the university's baseball team. He is currently married with three children.