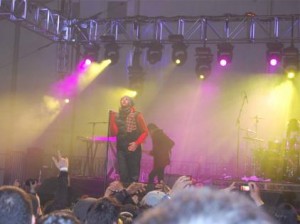 University of California, Riverside ended its Homecoming celebration with the sold-out Heat music festival.
This year's music festival included over 12,000 attendees and an eclectic line-up including, Travie McCoy from the band Gym Class Heroes, Lil' Jon, The Red Jumpsuit Apparatus and Against Me!
First to play on the main Highlander, the biggest tent at the event, was The Dirty Heads. This alternative group takes its musical influences from hip-hop and reggae, giving a sound similar as the bands 311 and Sublime. They played several songs and ended with one of their more popular songs "Lay me down."
The crowd was extremely pleased with their set – even though the band had just started touring again.
But this year's headliner was Travie McCoy. Crowds of students rushed to see him perform. Keeping his vibe alive throughout his performance, he interacted with the crowd from friending them by having all stick their thumbs in the air to singing acapella to "Billionaire" immediately after signing the song himself.
Before attendees could even get in, he was heard rehearsing his song "Need you," the next to the last song in his set. The final song in his performance was "Cupid's Chokehold," originally recorded as a part of Gym Class Heroes.
The Southland stage hosted The Red Jumpsuit Apparatus and Lil' Jon.
Several UCR students got to show off some of their artistic skills taking turns as DJs between sets at the festival on the Highlander stage.
Other attractions included a dance floor for all in attendance. Food vendors were also lined in the back for late night dinners or snacks.
Weather conditions caused some buzz at the event. The temperature dropped to the low 40s. Even McCoy mentioned that the festival should not be called Heat because it was too cold out in the night.
Lisa Luna contributed to story.