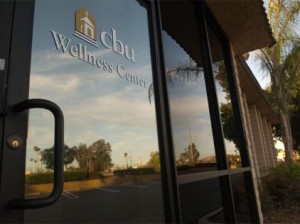 Chelsea Rogers, who played Donna in the recent production of The Taffetas at California Baptist University, was sick the day before opening night. She was unable to get an appointment with her primary physician in time, so she turned to the Student Health Center.
"I was able to be seen that day, the very hour that I called to make an appointment at the wellness center. I ended up paying a lot less to be seen there than I would have elsewhere," Rogers said. "My experience there was amazing and the doctor was incredibly helpful and desired for me to get better just as much as I did. I was thrilled that I could just walk in at any time and most likely be seen at any time."
However, the Health Clinic is open to all students, not just Taffetas. In fact, since opening Jan. 24, over 250 students have been treated. But, according to Lauri Linton, director of clinical services, not all students are taking advantage of the facility.
"We just had a few students recently at our main clinic who didn't know the facility was open," Linton said.
Kent Dacus, vice president for enrollment and student services, noted that since opening the clinic, there have been some changes and improvements. The most significant of which is the addition of travel immunizations for participants in International Service Projects.
"They have added all the shots for ISP, for international travel. It's much easier for students to just jump in there verses going to make arrangements," Dacus said.
The Riverside Medical Group, which runs the clinic, offered immunizations in the past, but having the shots available on a walk-in basis allows students to work around busy schedules.
"In previous years, we had a few days that we would be on campus, now the convenience is that the students can walk in for immunizations," Linton said.
Linton encourages students needing immunizations to visit the clinic soon because some vaccines are in limited supply, have to be special ordered, or must be administered some time before traveling.
But Linton said that students do not have to have a pressing health need to come by. They are welcome to come in for information, a checkup, or physical. "You don't have to be sick to come in, you can be healthy too," Linton said.