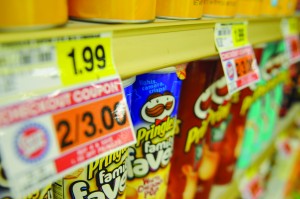 Cavernous cupboards have become a campus-wide epidemic; three packages of Top Ramen, half a box of Goldfish crackers, one coffee mug and single can of Diet Coke.
Let's face it, most college students fail to stock their kitchens and dorm rooms with mom-approved snacks and additional essentials. Fortunately, there is hope for victims of vacant shelf syndrome.
A new year provides the perfect opportunity to start fresh. It's time to make a school year resolution and revamp your grocery list.
Get your gear
Extraordinary kitchens are equipped with a collection of appropriate supplies.
Fill cabinets with plates, cups, napkins and utensils. Disposable variations of these items are an excellent choice for students who desire instant clean-up. Ziplock bags come in handy for storing leftovers or toting munchies to class.
For aspiring cooks and bakers, measuring cups, mixing bowls, cookie sheets and cake pans are a necessity.
Most campus apartments and dorm kitchens come equipped with a refrigerator and an oven. To upgrade a simple space, consider adding a toaster, blender, coffee maker and a microwave (for dorms, check the guidelines for acceptable appliances).
Stash your snacks
The most vital component to a well-stocked kitchen is a wide range of foods to munch on. Stock up on snacks that are easy to grab on-the-go. Granola bars, almonds, crackers, carrot sticks and fresh fruit are excellent choices that are not only easy, but will also provide balanced nutrition and sustained energy.
It is also important for students to consider their campus meal plan and prepare for the week ahead. Will most meals be provided by the Alumni Dining Commons or will you need to cook your own meals throughout the week? Breakfast is the easiest meal to prepare in a college apartment or dorm room. Several effortless breakfasts include cereal, instant oatmeal, toast or yogurt. For lunch and dinner options, consider sandwich fixings, such as lunch meats, sliced cheese, lettuce, and tomato. Other choices include individual canned soups, rotisserie chicken and spaghetti noodles.
For those who enjoy baking, keep a stash of flour, eggs, milk and sugar on hand. If baking is not a frequent occurrence, each of these items can be found in small portions. For novice bakers, an assortment of delicious pre made cookie dough can be found in the freezer section.
Additional kitchen essentials to consider include peanut butter, condiments, bottled water, coffee and milk.
Tidy up
No one wants to cook in a grimy kitchen. Turn up the tunes, grab the paper towels and scrub away.
In order to prevent a mountain of greasy dishes from accumulating in the sink, keep a bottle of dish soap, sponge and towel nearby. At the end of a scrumptious meal or baking party, clean the dishes and wipe the counter tops.
To avoid gritty floors, consider purchasing a broom and dust pan. Sweep at least once a week.
Voila! A first-rate kitchen, perfect for late-night coffee breaks and cooking experiments. Whoever said college students weren't domesticated?