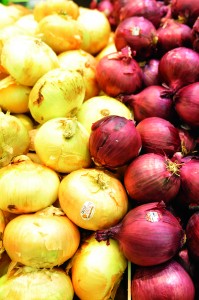 Farmers are stereotyped as wearing straw hats, overalls and having horrendous tan lines. But forgot those cliché images and open your mind to a new idea.
The local Farmer's Market is open every Saturday morning from 8 a.m. to 12 p.m. on Main St. and is a perfect place to spend a day.
1. Try Before You Buy. The Farmer's Market provides a plethora of exciting fruits and vegetables that are not found in the common grocery store.
Many samples of the various fruits, vegetables, breads and honeys are available. Take advantage of the opportunity; try new foods before purchasing them so that the few precious dollars of your college student salary are not wasted.
2. Buy Seasonally. Taking a trip to the Farmer's Market weekly or even monthly will enhance knowledge of what vegetables and fruits are in and out of season.
For instance, this October at the market look for fresh apples, blackberries, cranberries, parsnips, and cauliflower.
3. Buy Organic. Most foods that are provided at the local market will be grown organically, not processed and not artificially grown.
Pure ingredients and exotic, one of a kind items can be found.
4. Eat One of A Kind. Again, Farmer's Markets tend to have items that cannot be found in the local grocery store.
Try to find new produce and immerse it into your diet. Personally, I have tried various breads that I have bought from the market for my sandwiches.
5. Flower Power. Another great perk of shopping the outdoor market is the beauty of the outdoors.
Not only is the Farmer's Market a beautiful scene, but flowers are available for purchase so that your apartment can reflect some of the beauty found outside.
Sunflowers, daisies and many more flowers are available for purchase on the cheaper side. Who doesn't like to see their dinner table adorned with a vase of fresh flowers every week?
6. Knick Knacks. Another great feature of shopping at the local Farmer's Market is that the market features not only produce and other groceries but booths of crafts and handmade items made by Riverside locales.
One of a kind foods are complimented by one of a kind handmade items.
The Farmer's Market is the perfect place to shop for groceries and extra knick knacks as well as bonding with fellow hall mates or roommates.
Prices are cheaper than the local grocery store and the scene is much more fun.