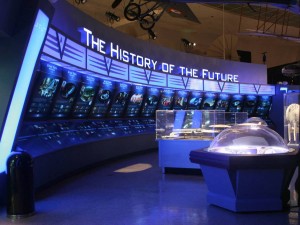 Museums typically have exhibits that showcase a past society, prehistoric animals or even a collection of art. The Riverside Metropolitan Museum, instead, is presenting a futuristic, fictional society through the new Star Trek exhibition.
Star Trek: The Exhibition is currently open until Feb. 28, 2011. Enette Morton, the museum director, states that the Star Trek exhibition is "a great way to see a little bit of our pop culture."
"We have four decades of television and movie history, a little piece of Hollywood, right here in Riverside," Morton said.
The exhibit has items from the original series, which aired in 1966, to the latest Star Trek movie, which debuted in 2009, and everything in between.
The exhibit is owned by Exploration II and contains costumes, props and other memorabilia from the Star Trek universe that is licensed by Paramount and CBS.
It was a one-year process for the Riverside Metropolitan Museum to arrange for this traveling exhibit to come to Riverside.
Additional items will be added Sept. 18 by the Eaton Science Fiction Collection from the University of California at Riverside, which holds the largest, publicly accessible collection of science fiction materials in the world.
In addition to the items showcased in the exhibit on Sept. 18, several events will occur.
A special event speaker, David Gerrold, the author and writer of the popular and fan favorite Star Trek Episode "Trouble with Tribbles," will be available for a book signing that day.
Other events include "Tribble Races" and a costume contest, which starts in October. Visitors in costume will get a $2 discount on their entrance ticket.
The Star Trek exhibit, which is housed across the street from the Fox Theater.
It is just the beginning of the growth of Riverside Metropolitan Museum's expansion of their services, and floor space. The RACE exhibit that is also currently displayed, is another proof of the museum's expansion.
For students with a valid school ID, the Riverside Metropolitan Museum offers a "back-to-school" discount. Morton encourages student to visit the museum.
"College students would enjoy our museum, it's fun," Morton said.
The Riverside Metropolitan Museum is open Tuesdays, Wednesdays and Fridays from 9 a.m.-5 p.m., Thursdays from 9 a.m.-9 p.m., Saturdays from 10 a.m.-5 p.m., Sundays from 11 a.m.-5 p.m., and it is closed on Mondays and most holidays.
Admission is free, however for special exhibitions, such as Star Trek, tickets are $15.
The museum is located in downtown Riverside on the corner of Orange and University.