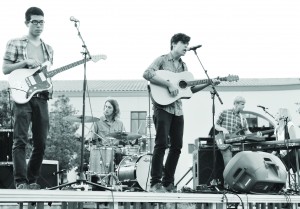 The Fragrance performed at California Baptist University for the International Center's music night on Sept. 13.
The Fragrance is comprised of five members: Joel Hasemeyer, vocals and guitar; Linzy Spann, keys, accordion, glockenspiel and vocals; Evan Eliason, bass and vocals; Andy Leong, guitar, keys and vocals; Matt Bushyeager, drums, percussion and glockenspiel.
Based in La Mirada, Calif., the members all came together at Biola University, where they currently attend school. The band released its first set of tracks titled "Lift Your Heads and Rejoice!" They are currently working on their first full-length album.
The alternative/indie sound of The Fragrance was an absolute hit. At the end of their set, CBU students began to
shout, "One more song!" and the band came back onto the stage and performed one final song.
The International Center created an event that effectively brought students of multiple backgrounds together, cultivating an atmosphere of diversity.
We decided to host an event where on one hand, international students would attend because we are the hosts and they feel comfortable around the known faces of our staff," Lucas Wehner, international student assistant, said.
"On the other hand, this event is attractive to American students as they would like to have a relaxing night listening to the good music of the band, The Fragrance, with Daniel Greenwalt and Caleb Hill opening. Thus, we hoped this event would connect internationals with American students," Wehner said.
The International Center's main goal is to help international students transition into American culture and understand institutional expectations.
Caleb Hill, junior, and Daniel Greenwalt, senior, opened the night with acoustic numbers.
"We want to show God's love," Greenwalt said.
Hill and Greenwalt are involved with the International Center through Wehner.
"I met Lucas and we became friends. I went to work with him one day and got involved with design. I actually designed the posters," Hill said. "Sometimes it seems like the international students are in their own group, but it's important that we reach out and bring them into our groups."
The goal is that friendships and bonds would be formed. "There could not be a better time than doing this in the beginning of a new semester as friendships can develop throughout the semester," Wehner said.
The goal of the International Center is to provide a welcoming and supportive environment that responds to the needs of CBU's International community. They implement and promote holistic activities which enhance the cultural, academic and spiritual growth of students. In this sense, they serve students by being actively involved in their lives beyond the classroom to help establish personal relationships in order to communicate the Christian faith.
Want to hear more from The Fragrance? Check them out on Facebook and iTunes. For more information about the International Center contact Jonathan Bello, director of international students.