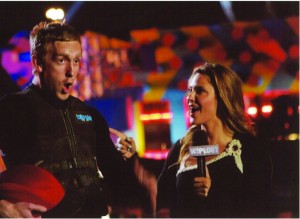 For Christian Cannon, paying for school just got easier.
Cannon appeared as a contestant on ABC's popular game show "Wipeout" in an episode that aired June 23 and he won 50 thousand dollars.
"I heard that they were having an open casting call at Downtown Disney's ESPN Zone, so I went," Cannon said. "I have watched the show forever and love it. So, I definitely wanted to be on it, if [that was] possible."
The theme of the season-premiere episode was "Hotties vs. Nerds." The male participants were the "nerds," and the female participants were designated, "hotties." Cannon, sporting skull and crossbones pajamas, was given the nickname "home scholar" since he competed in his pajamas that he wore to school when he was home-schooled.
Cannon's favorite part about having the nickname was, "Probably all of the funny lines they said about me. It was all in good fun and I was non-stop laughing while watching the episode," he said.
Host, Jill Wagner, asked him on the show about what he thinks makes him a nerd.
"Probably my incredible love and at the same time fear of my mother," Cannon said.
The show commences with 24 contestants but the number of contestants dwindles as the show progresses through four stages of extreme obstacle courses.
Cannon faced four obstacles called, "Wipeout Car Wash," "Driver's Ed," "Big Balls," "Jiggleator" and the "Double Barrel."
Cannon was second best in each of the first three obstacle courses.
In the final round, called "the Wipeout zone," Cannon competed against two other finalists, the "Country Nerd" and the "Nerd Tease."
Cannon said he thanked the Lord, throughout the show, for his achievements, even praying before attempting "the Wipeout Zone."
Cannon finished "the Wipeout zone" with a time of three minutes and 30 seconds, over eight minutes faster than the next closest opponent, the "Country Nerd," who had a time of 11 minutes and 34 seconds.
On the show, "the home scholar" joked that he would use the 50 thousand dollars to put his mother in a home. In reality, Cannon plans to use the prize to pay for his education.
"This means paying back school loans isn't going to be that bad," Cannon said.
Cannon is very thankful to God for providing him with the opportunity to compete on the show, as well as win the grand prize. At the conclusion of the show, Cannon is shown exclaiming, "Thank you Jesus!"
Cannon was not the only CBU student to win a game show this summer. Sophomore, Julianne Fain, won a brand new Ford Focus, living room set, and more on "The Price is Right."