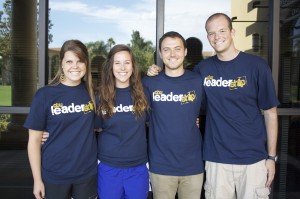 What does a record-breaking incoming freshman class mean? No new student retreat in the mountains this year.
Instead of making the annual trek to Forest Home, a Christian camping facility located in the San Bernadino Mountains, an estimate of 1400 new students, Joe Adcock said, will "retreat" on campus. The on-campus retreat will take place Sept. 3 through Sept. 5.
"We kept outgrowing camps," Joe Adcock, the assistant dean of students said.
Forest Home, the largest camping facility utilized by California Baptist University to date, housed over 1,000 students last year, even setting up an outdoor tent for retreat sessions. This year, the spiritual talks given by the Office of Spiritual Life will be called "Theme Sessions" and adhere to the New Student Orientation theme, Obey.
"Last year, we reached a max [number of students] and it was super challenging. I always knew a thousand was going to be the breaking point and it was," Adcock said. "I would have pulled out my hair if I had any."
The student body growth also poses a challenge to this year's Focus Coordinators, who are responsible for organizing events and instructing Focus Leaders. Each of these students: Elizabeth Gerhartz, Melanie Anderson, Jared Colvin and Cameron Malchow, held Focus Leader positions in past years.
"I think just mentally preparing for that many people will be our biggest challenge," Anderson said.
Gerhartz similarly said, "I think, size-wise, It's really hard to plan efficient games that include people and do team building."
Still, the Focus Coordinators are hopeful that the on-campus retreat will be a success.
"We will definitely lose some aspects, just because of the environment, but I think that the [Focus administrators] have really put a lot of effort into making it competitive and interactive for the students. So, we kind of make up for losing that environment," Colvin said.
Malchow said, "I think the people that wouldn't have gone to retreat can go to this, because it's not as time-consuming."
The Focus Coordinators said they encourage new students to attend all sessions and activities.
Reaching out to Riverside, the annual orientation service project, was cancelled this year due the influx of new students, shortening New Student Orientation by one day.
In the Spring, Adcock explained the retreat location change to the Focus Leaders this way: "You have this favorite toy when you're growing up. You love that toy to death and you play with that toy 'til its worn down. You just love that toy, but there comes a point where you're just too old."
"It's not the same toy. It's a new toy, but hopefully we'll be able to enjoy it just as much."