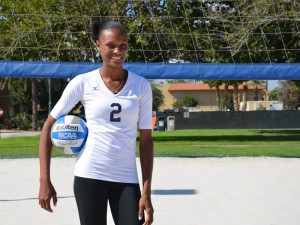 Fate united Ingrid Carmona, junior, and California Baptist University's Women's volleyball team on a service trip to the Dominican Republic in 2007.
Carmona reflected that when she first came to the United States to become a student athlete at CBU in Fall 2008, she was unable to play volleyball that first season and did not know English. Due to a missing travel document and a knee injury, she was also unable to participate in conference volleyball games that season.
Carmona began playing volleyball when she was 13 years old. Two years later she began playing with club in the Dominican Republic. Later, she realized that she wanted to play at the collegiate level.
"I loved volleyball but I'm from the Dominican Republic and we don't have organizations for different schools to play like here [the United States]. We don't have conferences like here and I wanted to play at this level. That's why I came here," Carmona said.
"At the beginning it wasn't that hard because I knew what I wanted and I was so positive about that. When I was leaving and [gathering] my papers and everything I never thought about leaving my family, my country and everything. I was just focused on like, 'This is what I want to do.' So at that moment that was fine, but after I arrived here that was when everything—like 'oh my gosh, I'm here alone.'…so those hard moments, they just came after I arrived here," Carmona said.
Returning in Fall 2009 for her first official season as a member of the volleyball team and first year as a traditional student, Carmona's focus and drive would earn her much success.
In the 2010 season, Carmona led her team with an average of 4.61 kills per set, accumulating 576 in total. She has been named NAIA All-American first teamer for two consecutive years.
"It's something that I'm doing first of all because I love it. I'm doing volleyball because I love it. Like for me it's so fun. I love it. I just love it…When you are frustrated and just looking at the bad things that are happening, you cannot enjoy it,"
"For me, right now I would say that all of my time is [spent playing] volleyball, school, and rest…it's like focused on those two right now—those are the most important. I think I will have time to have fun in the future," Carmona said.
Combining her love for mathematics and drawing, Carmona has known that she wanted to become a civil engineer since eighth grade.
When asked about prospective career opportunities in the future, she remains open to possibilities. "If you asked me that a couple months ago, I would have said, 'I'm going back home,' but right now I don't know. If I found job here, I would probably stay a couple years working here."
One of the people that inspires her most is her 13-year-old cousin, Anyelainy, who is as much a sister to her as her blood-related siblings Greilyn and AnaLuisa. "She is one of my inspirations and she loves me so much. She is so sweet," Carmona said.
Carmona's cousin and adopted sister has already begun playing volleyball and learning English back home; she may yet follow Carmona's example in upcoming years.
Carmona reflected on being so far away from home explaining that it is still difficult sometimes but she has chosen to embrace the attitude of a student in new places. "I don't know a lot about surrounding places, but in my personal opinion every place is different and there's always something you can learn and there are some things that you should just not look at. It's kind of like difficult sometimes to find the difference between 'What can I learn?' and 'What should I ignore?'."
On the season ahead, Carmona reflected on what she would like to improve because sometimes she gets frustrated. "I would try to enjoy it more. Don't think about those bad moments…like the only one that's perfect is God…just don't give up."