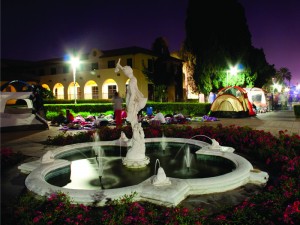 Thirty-three tents, two dorm room mattresses, three air mattresses, two couch cushions, one tepee, several lawn chairs and 360 students were stationed by the front lawn Thursday night for the chance to receive a T-shirt starting at 6:30 the following morning.
The T-shirts will act as tickets for California Baptist University's annual Midnight Madness event on Friday night.
The gym was too small to accommodate all of the students at last year's party which kicked off the basketball season.
"It's the most exclusive event on campus and this camp out is a way to ensure that you get in," Francis Maikai, crazies coordinator said.
Maikai is a Community Life intern in charge of organizing events for all of the varsity sports on campus including Midnight Madness, which has seen a dramatic increase in popularity over the past couple of years.
Students who showed up to the camp out received a ticket that guaranteed their spot in line, ensuring that they would receive the coveted Midnight Madness T-shirt at 6:30, Friday morning. Community Life had 1,200 shirts to distribute. Only students with the T-Shirts will be admitted.
Hundreds of students were unexpectedly turned away at the door last year, a problem that was remedied by ensuring that all 1,200 seats are parceled out ahead of time.
"We turned away over 400 people last year. People were mad an parents called. It was just a big deal that so many people showed up," Josh Mott, the 2010 crazies coordinator said.
Mott suggested that many students at the camp out were not there for the shirt, but were there to have fun.
"It's like the pre-pre-party to Midnight Madness," Mott said.
Some students pitched their tents ahead of time and left them to continue their day, but senior resident advisor, Matt Smitley was the first one to wait in line, starting at about 5 p.m.
"I heard there was going to be a lot of people out here," Smitley said. "[For] traditions like University of North Carolina vs. Duke University games they are camping out 24 hours in advance. So this is something that is obviously a big event and I want to be a part of it. I love the atmosphere of college athletics."
Smitley did not plan on leaving during the night, but admitted that sleeping was probably not on his list of activities for the night.
"I don't know if I'm going to sleep, but I'll be here all night," Smitley said.
By 6:30 on Friday morning, over 800 of the shirts had been handed out to students and by 10 a.m. all 1,200 shirts were handed out.
The pre-party will begin at 10:30 p.m. on Friday, which will include free Chick-fil-A for students and disc jockeys playing music from the roof of the gym.
"They're just going to be blown away by the extent that we went to entertain them," Maikai said. "Midnight Madness will change lives."