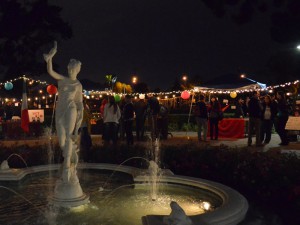 International students at California Baptist University shared their diverse cultures through events held around campus during International Celebration Week from Nov. 7-12.
The International Center worked in coordination with the Office of Residence Life; The global consultant from the Office of Spiritual Life, Rob Rice; the Provider Contract Food Service; and, the Revival in Rwanda organization to put on the events.
The theme this year, "Every tribe, tongue and nation," was born from the Bible verse, Revelation 7:9-10.
Alongside the events throughout the week, the Provider Contract Food Service served international dishes Monday through Friday during lunch hours in the Alumni Dining Commons. The events were as follows:
Monday – "Tribes and Dances" cultural dancing and "Tribe and Tongues" worship night
The celebration began with Indian dancing and singing in the afternoon.
Students worshiped in different languages and local band, "The Town," performed that evening at the Slab, a location in between the freshmen dormitories.
Tuesday – "Tribes and Movies" international sports and kite festival.
Students and International Center faculty spent the afternoon outdoors playing international sports such as Kabaddi and flying kites.
"Today was great. I was surprised at the turnout and I thought everybody had a really good time," Becky Derbyshire, sophomore said.
Wednesday – "Tribes, Eyes, and Ears" international movie night
The Filipino film "The Crying Ladies" (dir. Mark Meily, 2003) was shown in Missions Hall on Wednesday evening. This comedic drama follows the story of protagonist Stella Mate (Sharon Cuneta), who is hired with her friends to mourn for a Chinese funeral.
Thursday – "Tribes and Markets" international market
The international market was coordinated by Global Village and other campus offices.
"Inside the UP Women's living area is Global Village…our goal was that we would have a large campus-wide event each semester because Global Village is relatively new—it's in its second year now," Wendi Maze, residence life grad assistant, said.
Students from China performed a cultural dance. Senior Huiwen Zheng reflected that the music was a traditional song of China, translating to something like "beautiful flower" in English. Sweets from China were also shared.
Indian students also danced. Additionally, they hand painted henna tattoos for students throughout the evening.
Other presentations included Korean Thai Kwon Do, the singing of "Feliz Navidad" and Rwandan drum playing.
"I think International Celebration Week is a great idea and it's impressive that CBU has so many international students. It exposes American students to students from a lot of different countries and ideas," Victor Popa, graduate and international student from Romania, said.
Saturday – "Light of the Road Festival" fair and music
This event with Revival in Rwanda was cancelled due to rain in the weather forecast and other circumstances. However, the International Center hopes to reschedule the event for the spring semester.
The week as a whole was a celebration of international students of the different cultures represented at the university.
"This is just part our way of celebrating all of the cultures that are on our campus and a way to just inform everyone about our international students and the cultures that they come from, while celebrating them and celebrating that they're with us here at CBU," Amy Wright, International Center secretary, said.