Basketball fans around the world and the greater Los Angeles community continue to mourn the loss of Los Angeles Lakers legend Kobe Bryant, his 13-year-old daughter Gianna and seven others after a helicopter crashed into a hillside in Calabasas, Calif., Jan. 26, killing all on board.
His wife Vanessa Bryant recently announced via Instagram that the memorial service will be held Feb. 24 at the Staples Center — the date "2/24" a symbolic nod to the No. 24 Bryant wore during the latter part of his career and the No. 2 their daughter Gianna wore on her youth basketball team.
Bryant was heading toward his Mamba Sports Academy in Newbury Park with Gianna, two of her teammates and their parents, their pilot and an assistant coach for his daughter's basketball game. He was known for traveling by helicopter to avoid L.A. traffic.
Fans devastated by the loss of the NBA icon flocked to Bryant's famous office, the Staples Center, to pay tribute.
Cole Martins, senior marketing major at California Baptist University, attended the 2020 Grammy Awards at the Staples Center just hours after Bryant's death. Martins, a lifelong Los Angeles Lakers fan, said the experience of being inside what he referred to as "Kobe's favorite place" brought fans peace.
"I got there at 1:15 p.m. The crash happened around 11:30 a.m. and L.A. Live was already flooded with people. People were chanting 'Kobe' and people were chanting 'GiGi' and it was an overwhelming feeling to see thousands of people crying — who did not even know who he was as a person — and it just showed you how much he touched people," Martins said. "It made everyone kind of feel at peace because you were in his favorite place that he lived his life and played the game that he loved."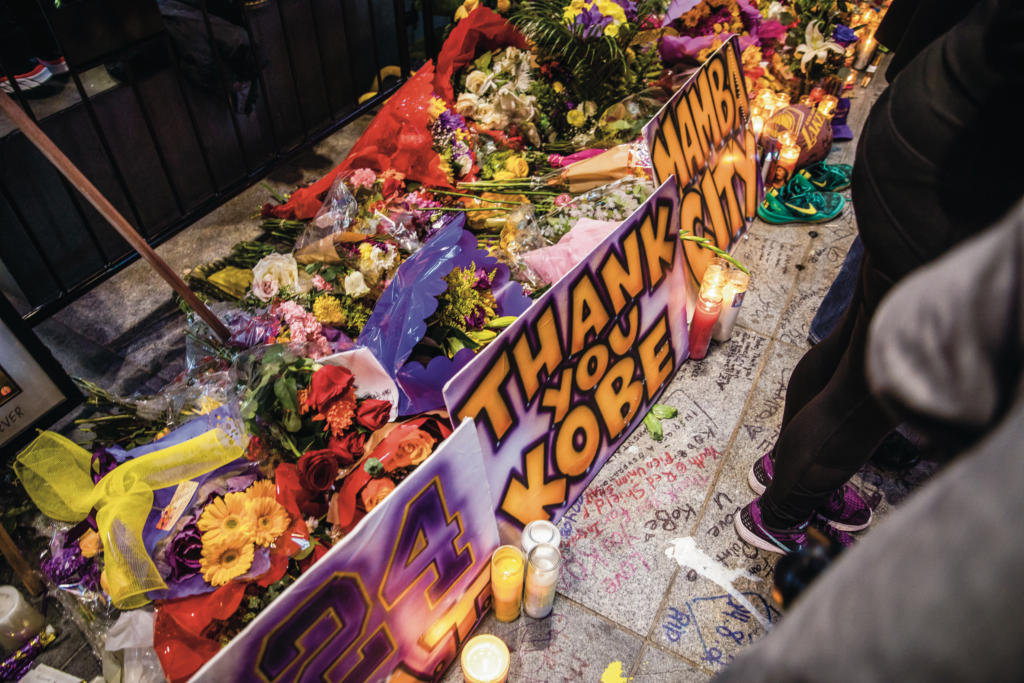 A staple phrase Bryant used to inspire fans was the 'mamba mentality.' Martins said he believes this mentality inspires anyone in any field to work hard.
"I think dedication and hard work, that is the type of person he was and for him it was specifically basketball, but for anybody else it can be whatever you personally fight for or are trying to do well in. That is what he stood for. He had that determination and mentality of working hard and never giving up," Martins said.
The Los Angeles Clippers paid tribute to Bryant as basketball returned to the Staples Center on Jan. 30. The Clippers acknowledge Bryant's impact on basketball by taking a moment of silence and holding a small ceremony to honor him in the arena.
Thaddeus Struiksma, junior criminal justice major, attended the Clippers' tribute.
"My experience at the Staples Center was extremely hard on the heart, but also encouraging to see the celebration of Kobe's life. It was cool to see so many people be able to come together and go through this process with each other due to their one common interest of basketball," Struiksma said. "I know I can speak for every real fan of basketball, that if you love the game, then you have to love Kobe, even if he's beating your favorite team all the time."
Fans gathered outside of the Staples Center to leave flowers and Bryant paraphernalia and write their favorite Bryant moments on a wall dedicated to honoring Bryant's legacy.
James Chidiac, junior architecture major and Bryant fan, said Kobe Bryant's legacy will live on for generations to come.
"When they shoot, (people) say, 'Kobe' or they always say, 'Play like Kobe.' Other generations are going to learn from him and they are going to learn that the way they play they got from Kobe so it is just going to be passed on and on, and he is just going to be a legend now," Chidiac said.
The tragedy of this crash affected not only the families of those on board the helicopter, but basketball fans throughout the country.