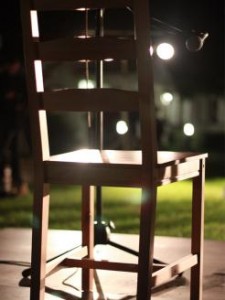 "Open Mic Night," hosted by students, is quickly becoming a tradition for residents in the Cottages.
Students from all over campus participated in "Open Mic Night" on Oct. 25. The event occurred at 8 p.m. in the middle of the Cottages courtyard and featured talented students from all over campus, performing for peers.
"I really like it," Laura Standley, freshman, said. "It's a good experience just to be able to listen and watch all of our peers."
"I got the idea from my high school," Eric Hanson, junior and the director of the event, said. "I think it's great the Cottage community has the opportunity to share our talent, as well as the rest of the campus."
The event started with Hanson leading the attendees in prayer. The talent began following the prayer. Jacob Armstrong played an ode to Chick-Fil- A on guitar. Daniel Urban participated, played two songs he learned from one of his favorite independent artists on YouTube.
Afterward, the girls of Cottage 12 took the stage and sang "Happy Birthday" to their friend, Mackenzie Glazier. Then, the event took a turn, with Mike Lopez, Edward Tran and Brandon Gill performing a cover of Coldplay's "Viva la Vida" and Richard Blackshire reciting personal poetry.
After a small break, Daniel Urban took the stage again, played two more songs on guitar. Miles Dean then played the guitar and cracked the occasional joke. Afterward Nate Lords wowed attendees with his free styling abilities. Hanson provided a beat box rhythm and Brent Cariaga took to the stage with juggling and jokes.
Finally, Victoria Offerman led everyone in a closing song, "Baby Shark."
"It's always a little bit nerve wracking whenever you get on stage," Offerman said. "No matter how many times you've done it before. Technically, this was my second time."
After the performances, the event turned into a social atmosphere, with everyone congratulating the performers and discussing the event.
"We're hoping to do this once a month," Hanson said. "We hope that as people come and watch, they'll be encouraged to participate. I would invite anyone who wants to participate in this event to join in and be a part of it."