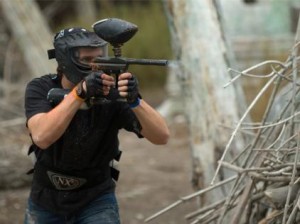 Most people cringe at the thought of getting hit with a .68 caliber ball of paint moving at 300 feet per second. The sport, better known as paintballing, was what 16 brave men and one brave woman from California Baptist University did on Oct. 24.
This woman was Krista Goodman, one of the more experienced players who participated that day. She enjoys playing paintball and is used to being one of the only girls.
"Being the only female player there doesn't bother me anymore. You feel kind of isolated at the beginning, but everybody warms up when they realize you can keep up with everybody else," Goodman said.
Campus Activities Board (CAB) sponsored the sold-out trip to the Jungle Island Paintball Park in Lake Elsinore. Mark Davenport, the outdoor adventure coordinator for CAB set the event up with help from Jeff Couto and Taylor Neece.
The cost of the event was $15, which covered park admission, equipment rental, and paintballs. Jungle Island charges $25 for admission and adding the other services would have cost participants at least $50.
"Even though I had all my gear, it was still cheap for me, it was $15 for the day. So it was fantastic, and that was one of the reasons I really wanted to go. It was a really great deal," Goodman said.
As a private group, those from CBU had a designated referee to be able to play rounds without others.
"That is one of the things that made it such a great day. I've played with groups that we have similar interests, we have similar faiths, we've been friends for years, but we usually play with other walk-on players. Because it was just our group everybody was really kind and it was a great experience just to be able to go and to have fun and not stress," Goodman said.
Davenport and Couto participated and helped lead the outing. "I thought the event went well overall. I felt that everybody had a good time, and appreciated that we facilitated a quality event for such a low price," Davenport said.
"We are pretty much constantly planning or setting up fun events. As far as outdoor adventure events, we are currently looking into setting up a rock climbing trip, and are planning a snowboarding or ski trip to Mammoth for Spring Break," Davenport said.
Goodman encourages other girls to try it out. "It's so much fun. It's typically looked at as a guy's sport, it does take a lot of courage to go. But once you're out there and you're just there to have fun, again the group kind of embraces you," Goodman said.
Goodman does offer a word of warning about Jungle Island. "The pizza at the park was not very good, bring lunch. I think a couple people went to In-n-Out. I should have gone with them," Goodman said.