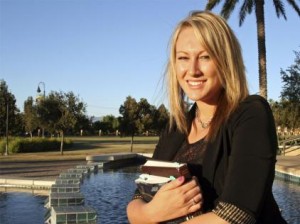 Seniors at California Baptist University prepare for their lives as post-grads as Dec. 17 approaches, the day of commencement.
The graduating class will have several choices to make; graduate school or a job.
Some students plan to enter the work force upon graduation, even if that means relocating to a different part of the state or country. In Riverside, San Bernardino and Ontario areas of California, the unemployment rate is one of the highest in the nation sitting at 14.8 percent for September 2010.
Natasha Montoya, marketing major, will move back to Texas upon graduation. She said her job search started three months ago and she may already have "several leads" all inTexas.
"I am originally from here in Riverside, California, but my parents and other family members live in the Dallas area, which is why I am considering relocating there for a short time because the job market is so much better out there right now," Montoya said. "I already have one interview set up in the Dallas area, where I can hopefully gain real world experience."
Blake Brewton, political science major, is planning her graduation and her wedding while looking for a job.
She said she would like to work in city government but would be inter- ested in any job opportunities. Her fiancé, a CBU alumni, was able to get a job at an engineering company which might need him to transfer to the base in Texas.
Brewton said that she would not mind moving to Texas. "I'd be able to find a job and the cost of living is so much cheaper," she said.
Rebeca Herrera, an intercultural studies major, felt the common anxiety most seniors feel until she received an email from a possible future employer. The offer is in Minnesota, however she wouldn't mind relocating.
Herrera plans on continuing her education and ultimately wants to teach work in the Muslim community while teaching English.
"Instead of worrying, realize that God is sovereign and in control," Herrera said. "He will always provide."
Graduates not entering the work environment will continue their education and pursue a graduate degree.
Kaplan Test Preparation's press release from Nov. 9 stated that more recent college graduates are looking into graduate school because of the difficult job market and economy. Among the 108 top schools, ac- cording to the U.S. News and World Report, 78 percent of graduate admissions officers predict an increase in the number of applicants for the current cycle.
However, this creates an increase in the number of applications for graduate schools.
"An increase in applications will result in an even more competitive admissions process, making it imperative for aspiring graduate students to put together a strong application. A graduate degree remains an important tool for job applicants seeking to be more marketable and can serve as a strong hedge against unemployment," Liza Weale, executive director of pre-business and pre-graduate programs at Kaplan Test Prep, said in the press release.
The increase in applicants is also a result of working professionals who want to change careers or become more marketable Weale said.
Elizabeth Baker, a foundational math major, said she needs a credential before entering the workforce.
"I'm starting the single subject credential program in January here at CBU," Baker said. " It is a three semester program, so I'll be doing Spring, Summer, and Fall courses and then be in the teaching field. I will be working part time while tak- ing those classes."
Montoya will also continue her education and work toward a Master's in Business Administration at CBU.
Loan payment will be deferred if a student is enrolled at least half- time. Repayment begins six months after a student graduates or drops below half-time status. Because of the weak job outlook, several students mentioned that they would accept almost any job to pay loans and avoid default.