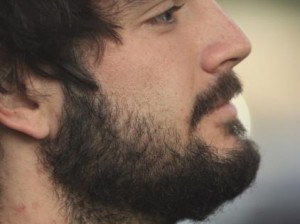 The Handlebar. The Fu Manchu. The Soul Patch. Mutton Chops.
All of the above are prime examples of facial hair excellence that the men of California Baptist University are looking to achieve this month, during the annual No-Shave November.
Every year, men across America set aside their razors for a month committed to the au naturale. It is an event that celebrates the natural masculinity that is associated with men's facial hair.
The typical approach to No-Shave November is to shave on the last day of October then not shave for all of November. Then when Dec. 1 comes, they compare amongst friends and are free to shave.
For some it means going from shaving once a week to having just a little peach fuzz by the end of the month. For others, it means they need to watch where they step on the 30th, or they may just trip over their ankle-length beard.
Junior Joel Pulliam is one of the brave men on campus who is participating this month.
"There are two kinds of people in this world who go around beardless: boys and women. And I am neither one," Pulliam said, quoting an ancient Greek saying.
This is not Pulliam's first time involving himself in the event and it is not just in November when he has face full of scruff.
He participates because he feels it is one of the "manliest rituals in the world" and recommends more male students join in.
This year his goal is to achieve a lush lumberjack beard and he is well on his way with one week to go.
Many ask if grooming is acceptable throughout the month, to keep things looking manageable. For Pulliam the answer to that is biblical.
He quotes Leviticus 19:27, "Ye shall not round the corners of your heads, neither shalt thou mar the corners of thy beard."
For some it can be difficult to follow the strict rules of the ritual, whether they need to stay clean-shaven for work or they just can not stand the feel of an itchy beard.
This is not true for first time No- Shave November participant Jeremy Cannon, who is excited to tackle the challenge this year.
Cannon is a junior who is looking to grow a full beard this November. He has a slightly different approach than Pulliam, as he said he "will probably have to trim partway through the month."
In his first attempt at the ritual, Cannon is focused on making it to the end and he recommends that more guys try it out.
"More guys should do it, so we can all match," he said.
Pulliam called this event the "manliest ritual" but for Cannon his involve- ment in the event can be traced back to a childhood activity – a dare.
"My friend dared me to do it, and I said 'bring it!'" Cannon said.
No matter if the men on-campus that get involved in the event are regular no-shave enthusiasts or first timers, it is all meant to accomplish one goal.
"It is all about having a nice hairy chin without the hassle of having to shave," Cannon said of the goal.
Ladies, like it or not, men around campus will be setting down the razors in the month of November this year and for years to come. It is a ritual. Men, embrace it and let your facial fuzz roam free.