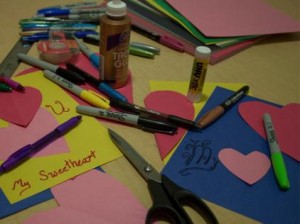 Nothing spells out love better than construction paper, heart shaped doilies and colorful markers.
For those who are single, dating, engaged or married, handmade valentines will surely warm the hearts of those you love.
Creating handmade valentines requires planning and organization. Supplies are needed for such a feat; inspiration needs to be cultivated and a creative atmosphere must be established.
Here are some tips on how to effectively plan out and create Valentine's Day cards:
Inspiration
Who are you creating your valentines for? What do you want them to look like? What do you want the theme of your valentines to be? These are a few questions that you should ask yourself as you decide to go handmade this February. Decide on what you want your cards to reflect; are you going for a more whimsical effect? Do you want to incorporate vintage looking cards into your creations? Pull in inspiration from various sources as you begin to think up these valentines.
Colors
The quintessential Valentines color scheme contains shades of pinks, reds, purples, whites and metallics. Do not be fooled, although these colors may seem tacky and overused, they are very important ingredients to this popular holiday. Embrace the colors, but also recognize the person whom you are creating this valentine for; girls, if you are creating valentines for male friends, acknowledge that they may not like these colors. Instead, try incorporating more manly colors into your creations such as dark purple, black and white.
Basic Supplies
Much like any masterpiece, basic foundations must be established. Collect supplies such as blank, solid colored cards, heart shaped doilies, Mod Podge, stamps, ink and envelopes in order to begin constructing your one of a kind design. By beginning with simple crafting staples you will be able to create a vision that may turn into a more intricate blueprint to your valentine. Never underestimate the power of simplicity. Sometimes, less truly is more.
Embellishments
If you would like to take your valentines crafting to a whole new level, use embellishments. Break out the glitter, brads, stickers and various scrap booking materials. Embellishments can take a simple handmade card from mundane to a work of art. Take a trip to the local Michael's Arts and Crafts Store to browse and purchase various kinds of colored and printed papers, ephemera and other crafting stores to heighten the aestheticism of your handmade valentines.
This Valentine's Day, fashion something that truly shows your care. Do not underestimate the power of a handmade card or gift. This weekend, put together a day where your friends, no matter what their marital status, can draw together and spend a day crafting these little trinkets for loved ones.