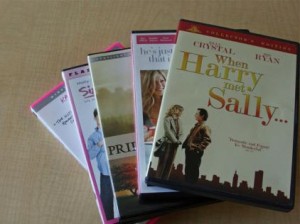 Valentine's Day is the most romantic day of the year. Movies can be fun to watch, whether you're deeply in love with a significant other or just with your ice cream.
However, there is always the question of what to do on the day of red and pink. Here are a list of the best Romantic Movies for everyone to watch: single or not.
1. Pretty Woman
This movie is a love story between, Vivian Ward, who meets wealthy and lonely businessman, Edward Lewis. He decides to hire her for the week so that he could experience life with someone by his side. Throughout the week they slowly fall in love while she experiences the "rich and famous" scene. This timeless movie is a tale of a modern day pauper saved by the prince.
2. He's Just Not That Into You
This movie is a tale of five women and four men who are struggling through the dating challenges most single individuals face. This movie is the epitome of what every woman feels when trying to find Mr. Right using phrases such as 'He's not calling you" throughout the movie. Although not all of the individuals find love, some do and the end gives the female viewers a sense of hope – there is a Mr. Right for every girl.
3. When Harry Met Sally
This movie chronicles the lives of Harry and Sally, two graduates from the University of Chicago who meet each other at several different periods in their lives. This movie describes how friendship between a man and a woman can not occur with romantic feelings emerging. Through various short interview clips of older couples, this movie enlightens the heart of all viewers, young and old.
4. Valentine's Day
This movie tells the tale of intertwining couples and singles in Los Angeles and their lives on Valentine's Day. This movie includes several humorous scenes such as an "I hate Valentine's Day" party and the infatuation of a young boy with his teacher. This movie is perfect for those who are single and those who have a significant other.
5. The Notebook
In this classic tale of love that can never be surpassed, a young couple is chronicled at different points in their lives. This movie is the indescribable, and a great movie to watch for those who have love, or are still searching for that love that defies all. The most endearing scene of the movie is when Noah sees Allie again after many years apart, and their love is instantly renewed, showing that despite years and miles apart, their love is true love.
6. Never Been Kissed
This movie chronicles a young copy editor, Josie Geller, who goes undercover at a local high school to find out what teenagers are really like. The young journalist falls in love with her teacher, found to be unacceptable to her boss. But it does make for a good story. Geller disapproves and blows her cover at the prom. The teacher, Sam Colson, is disappointed when he finds out. In order to patch things up, Geller writes an article about her experience and explains how she has never truly been kissed. This is a great Valentine's Day movie for those who are hopeless romantics, single or in a relationship.
7. 16 Candles
This is a teenage love story about seemingly neglected Samantha whose family forgets her sixteenth birthday. She is in love with the most popular guy at school, Jake Ryan, whom she believes doesn't think she exists. This is a typical teenage love story that will soften the heart of the viewer.
8. 50 First Dates
This is the story of Henry Roth, a Hawaiian ladies man who meets Lucy. However, after approaching Lucy the next day, Roth realizes that Lucy suffers from short term memory loss after she doesn't recognize him. This humorous romance tells of a tale of love that endures all boundaries.
9. 27 Dresses
This is a romantic comedy about a woman, Jane, who is a perpetual bridesmaid and is in love with her boss. She finds out that her boss, George, falls for her younger sister, Tess, and they quickly get engaged. While planning her little sister's wedding she meets cynical writer, Kevin, author of the famous wedding announcements. This romantic comedy will have all audiences laughing, crying and enjoying the turn of events.
10. Pride and Prejudice
This Jane Austen classic is the tale of a pauper, Elizabeth Bennett, who falls in love with a wealthy young man who moves into the neighborhood. Mr. Darcy, Elizabeth's love interest comes off as prideful and is prejudice on Elizabeth due to her insufferable family. This romance is an example that love can defy all social judgments.