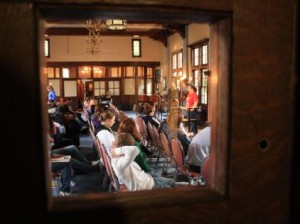 Alaska, Baltimore, Chicago and New York beware " students with a love of the Lord and a heart for others are about to enter.
The Office of Mobilization spent Friday, Feb. 18 and Saturday, Feb. 19 preparing California Baptist University students participating on United Service Projects teams.
USP participants spent their Intensive Training Day building team communication, trust and friendship.
"There has been a lot of team bonding that has been fun and useful, not just trying to take up time," Natalee Kolenski, junior and member of the Alaska B team, said.
"Actually getting to jump into this experience has been bringing us together as a team, closer together to God and it's especially giving us tools to share the gospel," Summer Flores, junior and Alaska B team member, said.
The Great Commission and purpose of spreading the Gospel and love of Christ stayed the focus throughout ITD. Team building games, bible study and prayer walking all kept the participants focused on the work ahead.
"God has really blessed our team with unity," Lauren Jarboe, graduate student and co-leader of the Baltimore A team, said. "We have the smallest team but it has been good in some ways and we call ourselves 'Small and Mighty.' We may be small but we can accomplish a lot and we have realized that this weekend."
Departure time is fast approaching for some, as the first of the teams will be heading out over spring break.
Returning participants were separated from so-called rookies for part of Saturday. In that time rookies watched a child protection video while returners participated in a study of Luke 9.
"I feel that ITD prepared me for what I may need to overcome during my stay in New York. Although I really enjoyed the Meyers-Briggs personality assessment, my favorite part was the scavenger hunt. It really helped my team realize the things we can overcome if we work together," freshman Jacob Armstrong said.
Kristen White encouraged the students at the closing session in the A.J. Staples Room by sharing her own struggles and reminding everyone of the spiritual implications of this year's 'Yield' theme.
"God doesn't give you a map, but he gives you a compass," White said.
The Staples Room had four stations available for participants to visit entitled fear, yield, commit and the altar. A time of worship and prayer gave USP participants and team leaders alike an opportunity to focus on the Lord and prepare their hearts for their work. Prayer counselors stood at each of the stations ready to help participants deal with fears, surrendering things to the Lord, committing to a life of ministry and more.
"One thing that I would say to the CBU community as a whole is that the harvest is plentiful but the workers are few," Jared Dobbins, assistant director of global mobilization said. "I don't mean the workers for a three-week team or a 10-day team; I mean the workers that are committed to long term giving of their lives for the sake of the gospel are few. Students have four years to really comprehend and grasp and labor toward what God is doing among the nations and to really find a place to be involved in that."
With students trained and ready to serve with Godly love, CBU will be sending out USP teams to do a variety of tasks ranging from community service to tutoring to helping at the dog sled races in Nome, Alaska.