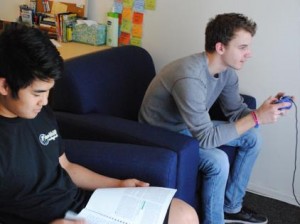 Students face a few more obstacles before the four-month summer vacation.
Here are some tips to maintain academic excellence, while getting ready for summer.
Time management
– It is not too late to start being more time oriented. There are 60 minutes in an hour, 24 hours in a day and seven days in a week. Preparing a block schedule not only helps to set priorities on what needs to get done but it can show how much free time there actually is.
– Get into a routine. Many students do not capitalize on having a set routine in life. Not only does this prepare students for what life will be like outside of college but it also helps students realize the value of time.
Network
– Stay in touch with friends. Do not always do homework alone, find a group of friends, preferably in the same class and work on projects together. Working hard together leads to having fun together later on.
– Keep in touch with classmates. It is surprising how often an old classmate just might have the books or notes needed to finish an assignment.
– Make the most of Facebook. Make a page for a study group where people can share ideas, set study dates. Facebook can actually be used with a useful purpose while sitting through class!
– Books can be read anywhere. Read one while eating, working out on a stationary bike or anywhere that seems reasonable. While reading a book can seem lonely, take notes and share these notes with friends taking similar classes. In time, a friend may share notes with a book they have read and research papers may not seem so difficult.
Multi-Task
– Study groups do not have to meet in the library. Meet for lunch together at the Alumni Dining Commons or at Brisco's. Break the monotony of studying by eating.
– There is nothing wrong with pausing on homework when inspiration strikes. Just remember to save progress on any work that is done before changing gears in homework. Having friends helps because a friend can say something odd in the middle of a study session and that one lone statement can actually become golden words of wisdom.
CBU, have fun these last few weeks at school. Study hard, but have fun while doing it. Hopefully these tips can lead to enjoyment and good grades. Look for the last "How-to" in the next edition of "The Banner."