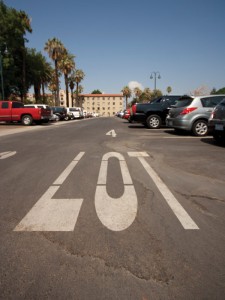 The campus changed drastically over the summer. Change can cause uneasiness but most students reacted favorably.
"We hope students will react in a positive way to the increased parking that they can use," Brenda Flores, facilities & planning department administrator, said. "We understand that there is a lot of construction around the School of Business building so it is affecting their ability to get to class."
The closed walkway will not reopen until next summer. One student expressed concern over the changes.
"I am a commuter and we only have one parking area, which is far too small. It takes me 10-15 minutes to secure a parking spot now," Lizbeth Arias, a commuter student, said.
Flores said the community needs to work together for positive change.
"Lots 1 and 2, which are in front of the Yeager building and School of Music, have been converted to non-residential parking, so hopefully students who are living on-campus are not parking in there and taking up space," Flores said.
In a survey of at least 100 California Baptist Students, 54 percent were positive about the construction, eight percent of students were negative and 36 percent were both.
The number of students who indicated they had to change their course while walking to class was 44 percent. Twenty-eight percent only had to modify their path some and 23 percent did not have to modify at all. Nine percent did not notice.
"The growth and the development, the construction and everything have been phenomenal. It has been a wonder seeing that. It is one of those things that what we can offer students now as opposite to a few short years ago. It's incredible," Anthony Lammons, director of student services said.
Lammons quoted President Ellis about the ultimate purpose of all Christians in light of the changes that are happening. He said, "There is no limit on the great commission. It is not to grow this much or to reach this many. It is open ended. It says go and grow, basically."