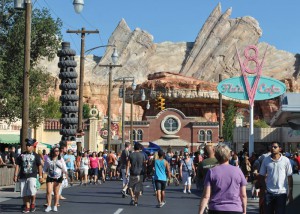 California Baptist University students have always had a long- standing relationship with the nearby Disneyland Park, and now Disney California Adventure Park has become even more popular.
After five years of renovation and $1.1 billion spent, this summer DCA opened the long awaited new additions to the theme park: Cars Land and Buena Vista Street.
Redevelopment of the park began in 2007 as a result of criticism that DCA was redundant and lacked the magic of its neighbor Disneyland and that it generally was not as enjoyable as its counterpart.
The redesigned park opened to the public on June 15 with an opening ceremony attended by Bob Iger, CEO of the Walt Disney Company and John Lassester, chief creative officer of Pixar, among others.
Cars Land, modeled after Pixar's popular 2006 film, features a replica of the movie's famous Route 66-style town, Radiator Springs, featuring all the care and attention to detail usually found in Disneyland.
Children visiting this area of the park are greeted by life-size versions of their favorite characters, including Mater and Lightning McQueen, two of the main "cars" from the movie. Even more impressive is the landscaping done around Radiator Spring Racers, in which riders race each other through a large replica of  desert hills.
Do not expect to ride it right away, however, as usual for new rides at Disney, lines for Radiator Spring Racers were at least an hour long when the park first opened the area earlier this year. There is an option for guests to separate from their party in order to go through a shorter line.
Cars Land also features two family rides better suited for children: Mater's Junkyard Jamboree and Luigi's Flying Tires.
The other new area of Disney California Adventure is Buena Vista Street, which starts at the entrance and is the path through which visitors enter the rest of the park. A 1920s themed area featuring jazz music and old style buildings, Buena Vista Street ushers guests through the early 20th century with which Walt Disney himself would have been familiar.
Styled after the nostalgic glamour of Southern California's Golden Age, Buena Vista Street features red trolleys that travel into nearby Hollywood Land and — perhaps of particular interest to college students — a large Starbucks.
While Buena Vista Street and Cars Land are completely new areas, previous areas of the park have undergone redesigns as part of DCA's renovation project. Paradise Pier was redesigned into a Victorian-style boardwalk with new games and rides, including a Little Mermaid ride and a Toy Story ride. The popular light and water show World of Color was added in 2011.
"I did enjoy (Disney California Adventure) the way it was before but I didn't go into the park as much as I do now. The change was necessary in order to attract more guests to the park," said Jacob Walters, senior music education major. "DCA is a better park now and I love what they did to it."