Packing party yields over 180 Christmas shoeboxes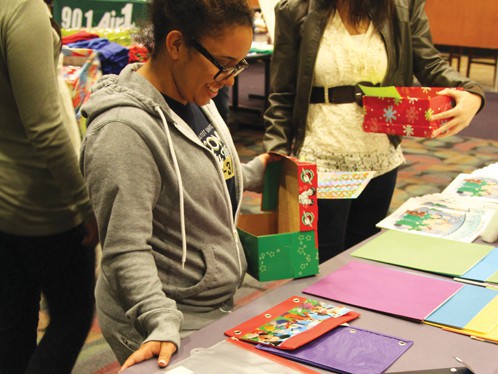 The Operation Christmas Child packing party, the first ever to take place on the California Baptist University campus, was a huge success Nov. 15, said Julie Dobbins, assistant director of Chapel and Compassion Ministries.
Over 100 participants packed 185 boxes, not including the boxes that were packed individually.
The packing party was organized into stations. Each student picked up a box, migrated to the tables with the supplies to pack a box and finished with filling out an "about me" form at the tables in the back of the room.
Ruby E. Carrillo, freshman undeclared major, said she liked the Christmas atmosphere of the party, and that thinking of the way the children would react when they opened their presents brought her joy.
"A lot of people want to come again next year since they had so much fun," said Stephanie R. Whiteker, second-year graduate student in counseling ministry and graduate assistant with Compassion Ministries. Dobbins said it was nice that everyone took seriously  the "about me" page, which students filled out for the children.
Students colored and drew materials, and Carrillo explained the form included a place to put a mailing address so the child could write students if they wanted to. Whiteker also said the students took time to pray over the boxes.
Dobbins said her hope for next year is that there would be more participation so CBU can meet the goal of packing 250 boxes for children around the world.
"We could not have done it without our interns, Elizabeth Arias, Kevin Cotton and Therasa Phan, who have been working since September," Dobbins said. Linda Rither, whose daughter is a student at CBU, assisted with the donations and helped make the party successful.
Dobbins also said it would not have been a successful packing party without Janice Lee, who works at the radio station Air1