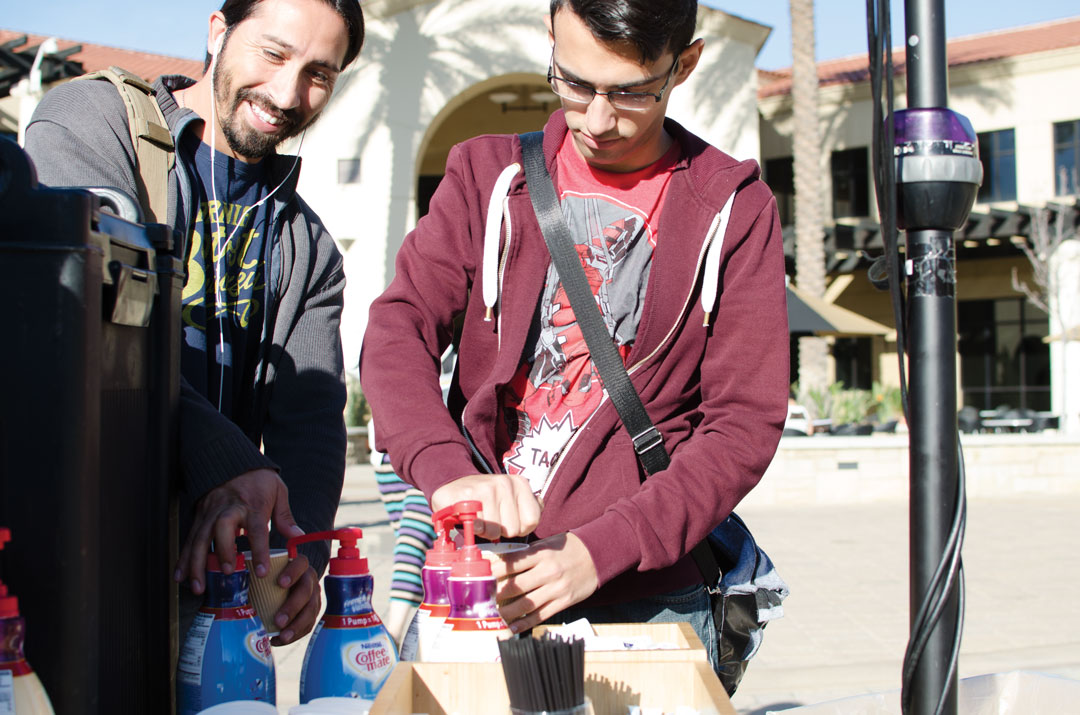 Students enjoy refreshment during spring midterms week
The Associated Students of California Baptist University sponsored the first breakfast of the semester Feb. 26 as junior and senior class representatives handed out bagels and breakfast burritos to students during midterms week.
While ASCBU periodically provided food to passing students and faculty last semester, the Junior/Senior Breakfast was the first of the spring semester. It marks the beginning of a series of ASCBU class-funded breakfasts for the rest of the school year. This time, the representatives set up a table in Stamps Courtyard in the morning to pass out the food.
The breakfasts are designed as a token of appreciation from ASCBU to the students.
"ASCBU representatives always love to meet new students," said Marie Copak, junior exercise science major and junior class representative. "We're trying to give back to them and show that we appreciate the students and are here for them. We encourage them to come out and take part in us giving back to them."
The senior class representatives began the regularly occurring event last year under the name "B-Fast." Copak said the junior and senior class representatives decided to start again this year because the students not only appreciated it, but also because midterms week provided a good opportunity.
McKenna Metcalf, junior communication disorders major, said it was her first time getting breakfast from ASCBU.
"It's nice because my first class was cancelled so I can come out and have breakfast, enjoy and get ready for my next test," Metcalf said. "It's really great. You can take a couple minutes to catch up with some friends if you see them and enjoy that you go to a great school that provides you breakfast for free."
For this first breakfast of the spring, the junior and senior class representatives decided to split funds.
Next month, the breakfast will be sponsored by the sophomore class and the final breakfast of the semester in April will be funded and hosted by the freshman class representatives.
The breakfasts are not limited to a certain class, but rather they are available for any passing students or faculty.
Copak added this breakfast acted more as a trial and error to see what they needed to change for next time, or if there was something in particular students did or did not like.
She also pointed out the possibility of students having dietary needs, such as being gluten-free, and providing more options for them in the future.
"It doesn't have to be a small amount of food that's gluten-free, but having an option that's a large quantity that everyone will love that caters to that group," she said.
The breakfasts are on a first-come, first-serve basis.
"I didn't have breakfast today so this was great," said Jessica Gonzalez, freshman liberal studies major.
The next breakfast will be in March and will be funded by the sophomore representatives.