Fan-favorite rock band visits local auditorium on fall 2016 tour
Nostalgia rocked the local music scene Nov. 2 at the Riverside Municipal Auditorium when Canadian rock band-turned-American-favorite Sum 41 stopped by for one of the last concert performances of their fall 2016 U.S./Canada tour.
Joined by post-hardcore band Senses Fail and the pop-punk sounds of British band As It Is, Sum 41 debuted the "Don't Call It a Sum-Back Tour" in the Inland Empire, playing the old familiar sounds of early albums such as "All Killer, No Filler" and "Underclass Hero" while promoting the latest hits from their newest album, "13 Voices."
Although Sum 41 has experienced its fair share of departures and additions over the span of its 20-year career, the new album and 2016 tour saw the return of original guitarist Dave "Brownsound" Baksh, who had left the band nearly 10 years ago.
The return of Baksh is one of a series of redemptive decisions made by Sum 41 in the years since 2012, when the band announced its break from touring to begin working on the production of a new album. During that time, drummer Steve Jocz announced his departure from the band. In 2014, lead vocalist and guitarist Deryck Whibley posted on his website a further hiatus due to liver and kidney failure from excessive drinking.
"Don't Call It a Sum-Back Tour" and "13 Voices" signified the return of something more for the band. Not only was it a comeback, but it was also an opportunity to introduce new drummer Frank Zummo and to reintroduce previous members Jason McCaslin (bassist), Tom Thacker (keyboardist and guitarist), and of course, Whibley himself.
In May 2016, the band announced it was signing with Hopeless Records, and with the Oct. 7 release of "13 Voices," Baksh was officially welcomed back to the Sum 41 family.
Throughout the hour-and-a-half long set, the band sang old favorites "With Me," "Blood In My Eyes," "Still Waiting," "In Too Deep" and more, while also singing new favorites such as "Fake My Own Death" and "War."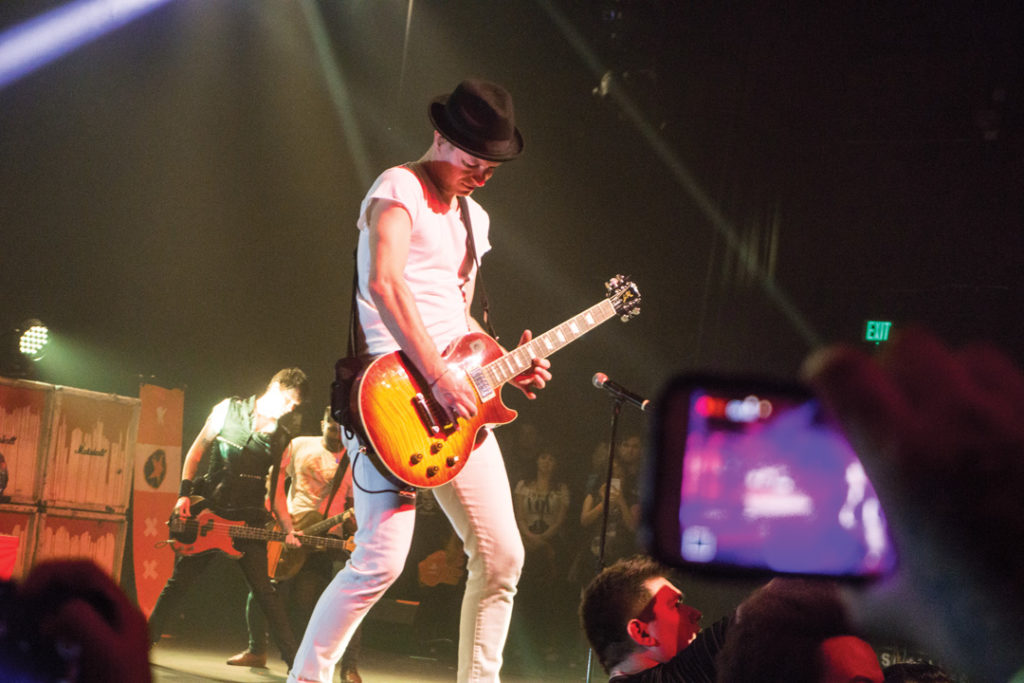 Before "War," Whibley explained the importance of what the song meant to him and to their fanbase, especially as he wrote it while on the road to recovery and sobriety.
"This song is about you guys, the fans," Whibley said.
The night ended with the band's performance of their very first single, "Fat Lip," joined by the frenzied crowd at the auditorium.
The band will continue to take the tour globally after the U.S./Canada leg of the tour is complete.
They will head south of the border to Mexico and Brazil in early December before kicking off the new year in January in France and Spain.
Rock enthusiasts can be confident Sum 41 will find their way back to the Inland Empire — the home of alternative rock — soon.