California Baptist University has many options for eating on campus, but sometimes students just want to cook in their dorms. A home-cooked meal can bring a sense of comfort to students living away from home. Here are some easy recipes for college students to whip up in their dorm.
The mornings can be a tricky time for college students trying to make it to early classes. Some students cannot find time to make breakfast. An easy fix is to have something you can prep the night before, such as overnight oats.
Banana Raspberry Overnight Oats
Ingredients: ½ cup old-fashioned oats, 1/3 cup Greek yogurt, ½ cup milk, 1 tablespoon of maple syrup or honey, ½ banana, ½ cup raspberry, ½ tablespoon chia seeds.
Instructions:
Step One: Simply combine all ingredients and pour into a glass jar.
Step Two: Let it sit in the fridge overnight, then add toppings and enjoy.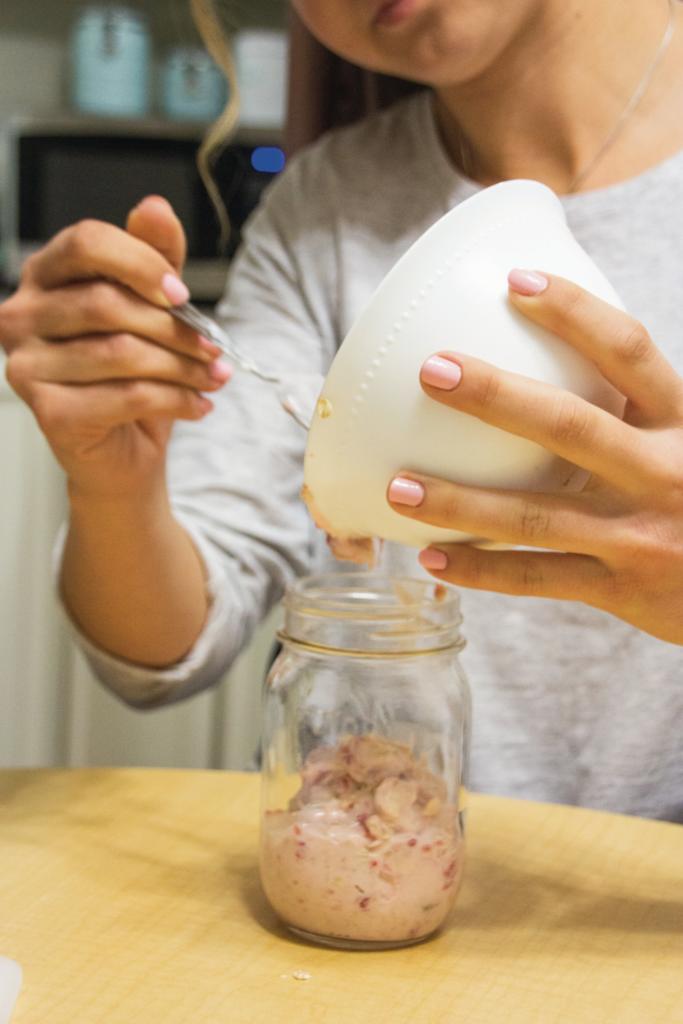 After morning classes, students may need an easy lunch they can fix up in their room.
Carissa Arguello, senior kinesiology major, said she likes to find easy and tasty recipes to make when she gets home from classes.
"Potato tacos are an easy recipe that I love to make. It tastes really good and doesn't take much time," Arguello said.
Vegan Potato Tacos
Ingredients: Potatoes (desired amount, chopped), 1 tablespoon olive oil, 1 bell pepper (chopped), 2 tablespoons of taco seasoning, 1 can black beans, 1 can refried beans, flour or corn tortillas, 1 cup of lettuce (chopped), 1 avocado (diced), hot sauce.
Instructions:
Step One: Add the chopped potatoes to a pot and cover them with water, bring the water to a boil and cook until tender with a fork, then drain out the water.
Step Two: Heat olive oil in a pan over medium heat, add in potatoes with the chopped bell pepper and taco seasoning.
Step Three: Cook potatoes for 5—7 minutes and flip until each side is crispy.
Step Four: Add the black beans and refried beans to a separate pan over medium heat, stir to combine.
Step Five: Once heated turn it to low, wrap the tortillas in a towel and microwave for 30 seconds.
Step Six: Assemble layers of beans to tortilla, followed by potatoes, lettuce, avocado and hot sauce.
When it comes to dinner after a long day of school and activities, there is nothing better than some comfort food.
Lauren Gallagher, junior public health major, shares one of her favorite recipes.
"My favorite recipe to make is definitely Indian coconut curry with rice and naan bread. I really enjoy making it because when I get tired of campus food, it's an easy 'gourmet' meal that I can make with one pan and a rice cooker," Gallagher said.
Indian Coconut Curry Chicken
Ingredients: 2 pounds chicken breast cut into ½ inch chunks, salt and pepper to taste, 1 ½ tablespoon vegetable oil, 2 tablespoon curry powder, ½ sliced onion, 2 cloves of garlic (crushed), 1 can coconut milk, 1 can diced tomatoes drained, 1 can tomato sauce.
Instructions:
Step One: Season chicken chunks with salt and pepper.
Step Two: Mix curry powder and oil in a large skillet over medium-high heat for 1 minute.
Step Three: Add garlic and onions and cook for 1 minute.
Step Four: Add chicken chunks and toss to coat with the curry mixture, reduce to medium heat and cook for 7–10 minutes or until chicken is no longer pink in the center.
Step Five: Pour coconut milk, diced tomatoes and tomato sauce into the pan and stir.
Step Six: Cover and simmer while stirring occasionally for approximately 30—40 minutes. Serve over rice and with naan bread.
These recipes provide options for students to cook in their dorms and take a break from eating out.
Cooking in your dorm is an easy way to make healthy choices and also have a fun activity to do with friends.