One of the most classic dessert recipes for the holidays remains the sugar cookie. This specific type of cookie is versatile because it can be cut into shapes and even decorated with icing.
There are many tips that claim to help create the best soft sugar cookies, so we compiled a few in our recipe to ensure the highest quality cookies for your next Christmas get-together!
For this recipe, you will need parchment paper, cooking spray, one pre-packaged sugar cookie mix, three tablespoons of all-purpose flour, one egg, one stick (½ cup) of butter, cookie cutters, cookie icing and any other cookie decorations you want to add.
Step 1: Blend your dry ingredients together. For a pre-packaged mix, be sure to the three tablespoons of all-purpose flour to ensure the shape of the cookie cutouts will hold.
Step 2: Lightly soften the butter. Other recipes will direct you to fully melt the butter, however this results in a less soft cookie. I
instead, leave the stick of butter out for an hour in room temperature or microwave the butter for only 10 seconds. The butter should still be in the shape of a stick.
Step 3: Add the egg and butter to the cookie mix. This should replicate the consistency of Play-Doh. This will be easier to mix with your hands directly, so ensure you wash your hands with soap and water for 20 seconds prior to mixing the dough.
Step 4: Place the dough in an air-tight bag or container and refrigerate for one hour.
Step 5: Lightly flour a surface to roll out the chilled dough. Using a rolling pin, roll out the dough to about 0.25 inches in thickness. Lightly flour the top of the dough surface and cut out the dough into shapes using cookie cutters. Repeat this step until the dough has run out.
Step 6: Place cookie dough shapes onto a baking sheet lined with parchment paper and lightly coated with cooking spray. Place the sheets with the cookie dough cut outs back into the fridge and cool for about 45 minutes.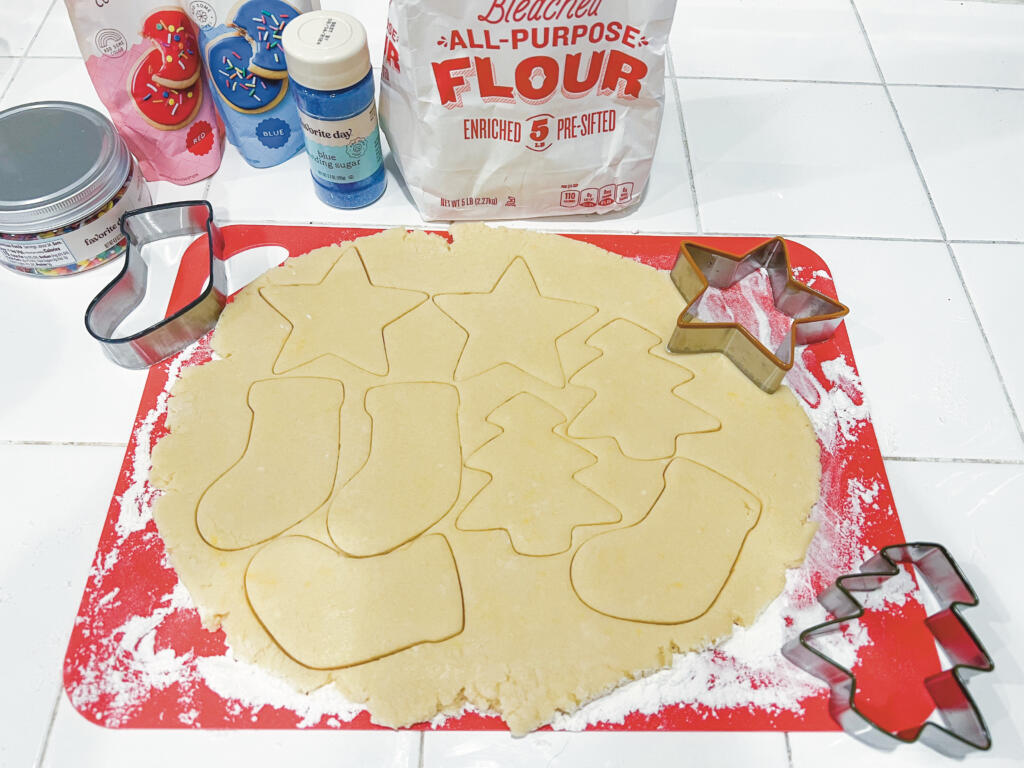 Step 7: Set the oven to 350°F. After chilling the dough for a second time, immediately transfer the dough sheets to the oven. Bake the cookies for seven minutes.
Another tip is to bake each cookie sheet separately to ensure even baking. After baking, the cookies will look underdone, but the cooling process will ensure the cookies will look baked.
Step 8: Once the cookies are cool to touch, begin decorating the cookies with cookie icing and sprinkles.
After that, your cookies are done! The cookie icing may take an hour to cool and harden to ensure you can stack the cookies.
Bring these cookies to your next Christmas party or bake them for any occasion!